City's back three come unstuck against Toffees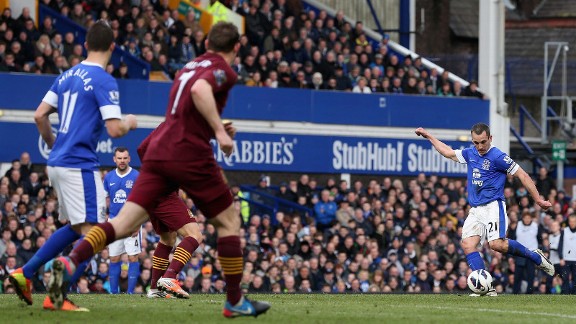 GettyImagesEverton's Leon Osman opened the scoring against Man City's back three
EVERTON 2-0 MANCHESTER CITY: At a time when the back three is out of fashion in much of the world, Italy has a style of its own. Last week, the majority of managers in Serie A ignored the footballing orthodoxy that four players start in defence. This week, the Premier League's most famous exiled Italian did likewise.

- O'Farrell: Bargain buys prove their worth at Goodison
- Curtis: Old fashioned values too much for City

But Roberto Mancini's ploy of playing 3-4-2-1 backfired and was abandoned inside 40 minutes. For the Manchester City manager's critics, his tactical changes are a reason why they are failing to defend their title. Yet although the controversy about Mancini's use of a back three was a constant in the first half of the season, the reality is that he had only begun a solitary league game without a back four, which also on Merseyside, in August's 2-2 draw with Liverpool. More often, he has changed from four to three during a game: in other words, it has been Plan B.

For Saturday's 2-0 defeat at Goodison Park, it was Plan A, but it nevertheless represented a rethink. In a pre-match interview Mancini joked he had forgotten his previous games against Everton, his bogey team. However, city's different approach suggested he remembered them all too well, wanted to avoid a repeat of past setbacks and switched shape as a result.

Instead, they encountered fresh problems. Perhaps, besides copying his compatriots, Mancini was emulating another managerial Roberto - Wigan's Martinez played a back three with huge success against Everton seven days earlier - but altering the system was simpler than bringing about a change in fortunes against David Moyes.

The reality is that, in three-and-a-half seasons in England, Mancini has only lost 23 league games. More than a quarter of those defeats have been to Everton. Moyes' use of a 4-4-1-1 formation has been a regular in that time; his tactics were as expected, Mancini's more unpredictable.

Everton's gameplan against top teams has become familiar. The Toffees start at a high tempo and intensity, begin with a high defensive line and press high up the pitch. City, by starting slower, allowed their opponents to assume the ascendancy, as they did in their previous defeat at Southampton.

The thought behind Mancini's move seemed to be that David Silva and Carlos Tevez could find space between the lines: because Everton forced City back into their half, that became less relevant.

But in creating an overload in one part of the pitch has a corollary elsewhere. The downside of a back three is that the wing-backs can be overworked or outnumbered and, as a result, that space can be afforded to the opposition on the flanks. It is particularly dangerous against Everton as Leighton Baines has created more chances than anyone else in the Premier League while, though Moyes has had more defensive right-backs for much of his reign, Seamus Coleman is charged with emulating Baines in his forward runs.

When Everton face a team playing 4-4-2, or a variant thereof, they have a direct opponent. Against a side with wing-backs, they become the spare men. Predictably, much of Everton's threat came from their crosses, Baines and Coleman putting in 22 - more than their team-mates' combined efforts - between them. They were often the widest players. With Steven Pienaar and Kevin Mirallas first occupying the City wing-backs but often looking infield, Everton's full-backs overlapped into the space they vacated; by coming from deeper, they were often running at speed by the time they encountered anyone. Tellingly, it was Coleman who provided the pass for Leon Osman's opener.

The problems with the system were exacerbated by the personnel. City were equipped to defend better on their right with Pablo Zabaleta (right-sided centre-back then right-back) and James Milner (right wing-back then right-sided midfielder) than on the left. When Aleksandar Kolarov was the left wing-back, the defender inside him was Matija Nastasic, a central defender by trade, but when the Serb became a full-back, he had David Silva in front of him, offering less help than Milner and more prone to roam elsewhere. In other words, the Serb was exposed. It helped explain why Coleman was the game's most influential player.

In part, that accounted for Mancini's move to 4-4-2 just before half-time. Moyes also altered formation, but by necessity. When Pienaar was sent off on the hour, they switched to became 4-4-1 with Osman moving to the left and Marouane Fellaini dropping deeper. Often when they lead against elite opposition at Goodison, they retreat in the second half. City's lack of width, the full-backs apart, meant they could defend the width of the penalty box, as well as on the edge of it, with two, compact banks of four.

Unlike in some previous rearguard actions, however, they also looked to counter-attack at pace and, with City ragged at the back, that produced Nikica Jelavic's injury-time second. By then, Mancini had reverted to three at the back - the rationale, presumably, being that four defenders were not required to deal with a sole striker - although when Fellaini led the break for Jelavic's goal, midfielder Javi Garcia formed a one-man rearguard. That is one trend that certainly won't catch on.