Manuel Pellegrini and Fatih Terim back where they belong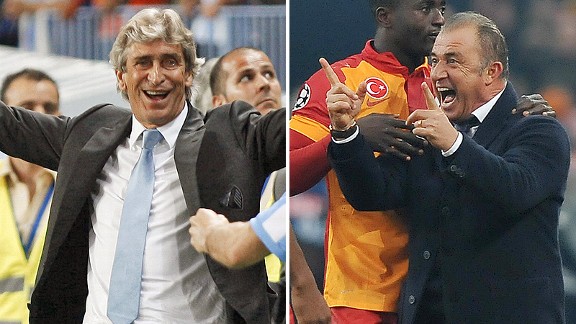 Reuters, AP PhotoAfter being unceremoniously dumped by Real Madrid and Milan, respectively, Malaga's Manuel Pellegrini and Galatasaray's Fatih Terim have led their sides to the Champions League quarters.
By common consent, five of the eight remaining sides in the Champions League have a good chance of lifting the European Cup at Wembley in May. Barcelona, Real Madrid, Borussia Dortmund, Bayern Munich and Juventus -- current league champions, imminent league champions or, in Juve's case, both.

The dark horse? Paris St Germain have performed well in Europe under Champions League specialist Carlo Ancelotti, and following their recruitment of Zlatan Ibrahimovic, Thiago Silva and Ezequiel Lavezzi, their presence is no great surprise.

But for the seventh and eighth clubs in the quarterfinal, you would have guessed the likes of Chelsea, Milan, Arsenal or Manchester City. Maybe Shakhtar Donetsk, maybe Porto, maybe Zenit St Petersburg. Malaga and Galatasaray, you suspect, were not part of the equation at the start of the campaign, but here they are -- the European Cup quarterfinals, the promised land, football's very own, real life Dream Football League.

- Video: Malaga's Cinderella story
- Blog: Magnificent Isco
- Blog: Gala combine head and heart

These days, even outsiders depend on a strong financial backing, and these stories are not miracles. Galatasaray's wage bill has ballooned in recent years, with the purchase of Wesley Sneijder and Didier Drogba in January taking their spending to new heights. Malaga might be in current financial difficulties, but it was spending that got them into the Champions League in the first place.

But the story doesn't end there, because both boast extremely capable managers. Malaga's Manuel Pellegrini and Galatasaray's Fatih Terim are, quite rightly, dining at the top table of European football.

Both have been here before. Terim has already conquered Europe with Galatasaray, winning the UEFA Cup in 2000, leading the likes of Hakan Sukur, Gheorghe Hagi, Gheorghe Popescu and Claudio Taffarel to a penalty shootout victory over Arsenal in the final.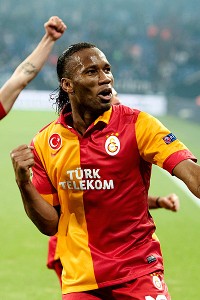 Odd Andersen/AFP/Getty ImagesGalatasaray's wage bill has ballooned in recent years, with the purchase of stars like Didier Drogba.
Don't talk to Pellegrini about penalties against Arsenal. Juan Roman Riquelme's miss in the semifinal of 2006 prevented Villarreal -- tiny, unfancied Villarreal -- from advancing to a Champions League final against Barcelona. In reaching the quarterfinal with Malaga this season, Pellegrini has become the first man to coach two Champions League debutantes to that stage.

But there's something more intriguing about Terim and Pellegrini. Both were once recruited, and then unceremoniously dumped, by top clubs. Terim coached Milan in 2001, but was sacked by Silvio Berlusconi after nine league games. Pellegrini was Real Madrid's manager in 2009-10, but was dismissed when Jose Mourinho became a more attractive option, after the Portuguese coach won the European Cup at the Bernabeu with Inter. Terim and Pellegrini, in comparison with their illustrious successors, seemed like failures.

Here's the thing: neither was a failure. Terim's brief spell in charge of Milan in 2001 was far from disastrous: four wins and three draws from nine Serie A matches, while Milan's progression in the UEFA Cup and Coppa Italia was faultless. Pellegrini, meanwhile, did a perfectly reasonable job with Real Madrid, leading the club to (at the time) their best points total in a La Liga campaign. The problem was, Barcelona were even better -- in Pep Guardiola's second campaign, they were almost unstoppable.

Both were sacked for political reasons. Terim's time at Milan came to a premature end because -- allegedly -- some senior players didn't take to him. Paolo Maldini, Demetrio Albertini and Alessandro Costacurta were amongst the players cited as the problem, and it wasn't a coincidence that their former teammate, Ancelotti, was appointed immediately. He was supposedly considering an offer from Parma; Berlusconi had to pounce, or else it would be too late.

Pellegrini's departure from Real was even more ludicrous. By his own admission, he had effectively lost his job well before the end of the season, squabbling amongst Real's board members, combined with a particularly vicious campaign from Madrid-based newspapers, meant he was a dead man walking. 'Well, the myth that is Pellegrini is finally over,' led Marca the day after Real lost 2-0 to Barca. Amazingly, Pellegrini and Florentino Perez didn't talk all season. "No one ever asked me anything about how to create a team capable of playing the kind of football I wanted to play," he complained.

The point is this: These are two excellent coaches who could, under different circumstances, be considered amongst Europe's finest. Terim's tactics are basic, but always brave and executed with conviction. Few other coaches would have played a diamond at Schalke, having witnessed how they destroyed Dortmund down the flanks last weekend. But Terim did -- in order to accommodate Sneijder in his favored No. 10 position -- and it worked wonders.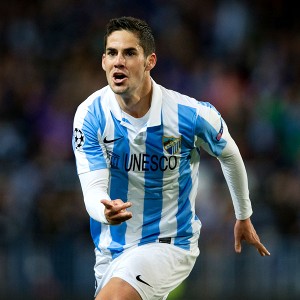 Jasper Juinen/Getty ImagesPellegrini has based his side around creative talents such as Isco.
Pellegrini, meanwhile, is the man who took a chance on Riquelme when Barcelona had turned its back. In contrast with his nickname of El Ingeniero -- he has a civil engineering degree -- Pellegrini is a relaxed, passive coach who doesn't unnecessarily interfere with his players. He has based his side around creative talents such as Santi Cazorla before his departure to Arsenal, and now Isco. Joaquin and Javier Saviola, technical players considered to be past their best, have also thrived.

For both, this Champions League campaign might be a stepping stone to greater things, and Pellegrini has already been heavily linked to Manchester City and Chelsea. "Manuel would love to manage in the Premier League," said his agent Jesus Martinez. "Just as he would love to coach in Germany, Italy and other important leagues. There is still time to analyse what we'll do for next season."

Terim, meanwhile, has a great fondness for both Galatasaray and Turkey -- maybe he's too settled to make another big move abroad.

Regardless, those debates are for the future. In Friday's Champions League quarterfinal draw, Galatasaray and Malaga will both be present, and Terim and Pellegrini are back where they belong.