West Brom and Swansea bravery pays off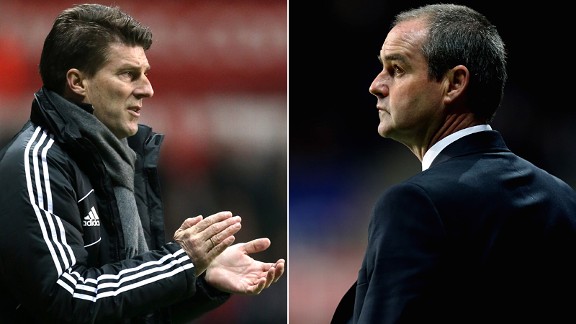 GettyImagesMichael Laudrup and Steve Clarke: Best new managers in the league
Ahead of the 2012-13 Premier League season, there were six new managerial appointments. Paul Lambert has struggled at Aston Villa, Chris Hughton seems to have succeeded in keeping Norwich up, while Brendan Rodgers and Andre Villas-Boas are both getting their players in shape after initial struggles at Liverpool and Tottenham respectively. Those two will meet this weekend in the Premier League's standout weekend fixture.

But there's another meeting between two of those six, as Michael Laudrup's Swansea travel to Steve Clarke's West Brom. Eighth versus ninth is hardly the most exciting league clash of the season -- but that shouldn't take anything away from their achievements. The two bravest appointments of last summer have turned out to be the most successful.

The Premier League season is a long old campaign. By May, you wonder where the last nine months went -- but over that period, clubs' expectations are slowly brought in line with their current league position. Last season, West Brom and Swansea finished 10th and 11th respectively, but let's remember how they were considered before this campaign.

In August, these two clubs were sixth and seventh favourites to be relegated. Most bookmakers had Reading, Southampton, Norwich, Wigan and West Ham as the five sides in greatest danger -- then came West Brom and Swansea. The common consensus was that both sides owed much to their previous managers; West Brom were solid and dependable because of Roy Hodgson's infamous training sessions focused upon defensive positioning; Swansea were free-flowing and positive because of Brendan Rodgers' emphasis upon open, passing football.

Neither wanted to lose their manager -- they were simply attracted elsewhere by better jobs. Rodgers simply couldn't turn down Liverpool, as Hodgson -- who took over the England job for Euro 2012 -- knows all too well. Both clubs had tricky decisions when appointing replacements.

Both took risks. Despite considerable experience as a deputy, Steve Clarke had never been a full-time manager before, so appointing him to succeed the vastly experienced Hodgson could have backfired spectacularly.

"After Roy was appointed as England manager we cast the net far and wide to identify the most suitable candidate to fill his shoes," said West Brom's director of football, Dan Ashworth, another West Brom man poached by the FA recently. "From the outset we decided to pursue candidates who are renowned for their coaching ability."

Rather than starting an unnecessary revolution, Clarke has drawn heavily upon Hodgson's foundations. There's a familiar structure to the side -- two deep banks of four behind the ball, with the wide players breaking forward directly to combine with the two attackers.

Similarly, the appointment of Laudrup could also have failed. The Dane's playing career was magnificent, but his managerial career has been inconsistent and frequently underwhelming. At Getafe there was minor success, with Mallorca he coped well in difficult circumstances, but his experience in Russia with Spartak Moscow lasted just eight months before poor results saw him sacked. That was his first venture outside Spain or Denmark, the countries he knows best. In England -- or Wales, should we say -- things could have gone awry. Laudrup openly admits he "didn't know much" about Swansea before joining.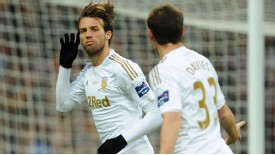 GettyImagesMichu has proved to be a real bargain for Swansea
"We decided that if we could find the right person, he would enhance our image and take us forward as a football club," Huw Jenkins told David Conn of the Guardian. "Michael Laudrup is that person, he brings us that credibility. Firstly, though, he had to fit in with the parameters we set. We don't bring somebody in to run the club; we feel we have people doing that pretty well. He is here to coach the first team, to work with us."

Like Clarke, Laudrup chose to build upon the work of his processor, rather than ripping everything up and start again. The broad structure of the side remained, although their transfer dealings have been superb. For the £15 million received for Joe Allen, Swansea bought Michu, Kyle Bartley, Chico Flores, Ki Sung-Yueng and Pablo Hernandez.

Overall, Swansea's squad is much stronger than under Rodgers. They play more directly, too -- whereas Rodgers confidently spoke about how he didn't want to "play the percentages - the only percentage I'm interested in is possession," Laudrup orders more penetration. To him, statistical possession dominance "could be that one team is playing the ball between the back four 120 times ... for me, possession is to keep the ball while you are waiting for the possibility to penetrate. Every pass is for a reason."

The difference between Clarke and Laudrup is, clearly, in their club's style of play. That's partly attributable to the situation when they took charge last summer, but these are very different coaches. Clarke was a centre back as a player and has specialised in defensive coaching over the past decade. Regardless of the players used, West Brom always play the same way -- structure and discipline comes before individual expression.

On the other hand, the gifted playmaker Laudrup has indulged players rather than focusing on a set system. He was initially unsure whether to use Michu as the primary striker, or in his favoured position just behind Danny Graham, now departed for Sunderland. That decision dictated whether he used two or three of Leon Britton, Ki and Jonathan De Guzman. He's also sometimes used three rotating wingers at once: Hernandez, Nathan Dyer and Wayne Routledge.

There's a system in place, clearly, but Laudrup basically tries to cram in as many technical players as possible -- in the League Cup final victory over Bradford, this resulted in him deploying Ki at centre back, so all seven of the aforementioned players could start together for the first time.

Somewhere, there's a lesson here. The managerial merry-go-round means the same faces often crop up again and again at Premier League clubs. Either of these clubs could have turned to Mick McCarthy, Owen Coyle or Alex McLeish -- the type of names probably offered to them by various agents.

They didn't; they looked further afield. Neither Clarke nor Laudrup were the favourites for their respective jobs after their predecessor departed, but they've deservedly become favourites among their teams' supporters.