Drive for 50 starts at the Hawthorns
The season's first meeting between Swansea and West Brom produced the Swans' best performance under Michael Laudrup to date. Repeating the feat will be harder, especially away from home. The Swans might boast one of the Premier League's stingiest away defences, but they have struggled to score themselves while on their travels.

-- Match preview: Fitness boost for Baggies

The Swans will be looking to meet Laudrup's new 50-point target, for which his side will need three wins and a draw from a remaining slate of 10 mostly difficult fixtures. It's certainly achievable, but with Arsenal, Spurs, Chelsea, and both Manchester clubs on the horizon, getting at least a point at the Hawthorns would be a good start.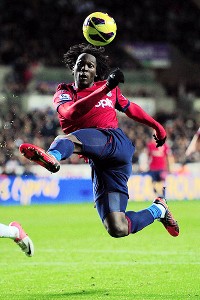 Stu Forster/Getty ImagesSwansea will need to keep Romelo Lukaku in check in their visit to the Hawthorns.
As things stand, Swansea sit eighth in the Premier League, one above West Brom with both sides on 40 points. Laudrup has spoken of how, beyond the traditional 'Big Six' sides and Everton, the Swans have the potential to be the 'best of the rest'. That implies an eighth-place finish, one more than Laudrup's desired ninth.

It is worth noting that beyond West Brom, Fulham (currently 10th), have 33 points, seven behind Swansea and West Brom. Stoke City and West Ham, also with 33, sit behind Fulham. What all this means is that, barring a significant slump from either the Swans or the Baggies, or a fantastic turn of form from Fulham, Stoke or West Ham, the Swans are only in a two-team race for that eighth spot - it's between them and West Brom.

That makes Saturday's match a perfect test of the Swans' high-reaching aspirations. A win would put a further three points distance between the clubs and maintain at least a seven-point gap from the rest regardless of those other team's results. If the Swans are to finish eighth, their quest to do so starts in earnest on Saturday. Holding that spot will depend on how well the Swans can weather the big six storm which the fixture list has been brewing, but that's something to worry about on another day.

West Brom and Swansea have faced each other three times over the past season and a half, with the Swans winning all three while outscoring the Baggies, 8-2. Matches between these sides have been high-scoring affairs, which should test the Swans low-scoring away form book.

The biggest test, both literally and figuratively, will be Romelu Lukaku. With Chico Flores still sidelined, the task of containing Lukaku should fall to Ash Williams, who will no doubt enjoy the physical challenge. Lukaku scored West Brom's goal in the Liberty fixture, and his fine form all season long suggests he's more than capable of repeating the trick on home turf.

Swansea should field a full-strength side, with no mid-week fixtures to worry about and only two more games this month after Saturday. It will be interesting to see if former Baggie Luke Moore will get another chance to earn a contract, though with a bit of luck, the Swans won't be relying on a last-minute goal this week.