Ash not best fit for Arsenal
Swansea's recent success has not only opened the doors on the club trophy cabinet, but also the floodgates for rumours linking the Swans' key personnel with moves to bigger clubs.

I say floodgates, when really all we have at the moment is a steady trickle. I am sure the Michael Laudrup rumours will persist until the day he goes, of which the short-term estimate is the end of this season, the long-term the end of next, and the most likely destination Real Madrid.

Jose Mourinho will walk away from the Bernabeu in the summer to return to Chelsea, and unless Rafa Benitez fancies another spell at being an interim manager, Madrid might force Laudrup's hand.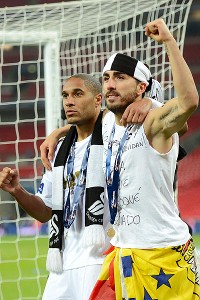 Michael Regan/Getty ImagesAshley Williams, left, may be a prime target for Arsenal, but Chico Flores would be a better choice for the Gunners.
Anyway, enough talk about Laudrup. We all know he's gone -- he was before he even came, if I'm allowed to be philosophical for a moment -- and I think everyone connected with Swansea just wants to enjoy his presence while it lasts.

Beyond Laudrup, the Swans' players are also being targeted, with the latest rumours suggesting Arsene Wenger is prepared to offer up eight million pounds to take centre back Ashley Williams to Arsenal.

I'm not sure what to think of the Williams rumours. I have expected Brendan Rodgers to come back for Williams ever since he left, and that fits Rodgers' M.O. of being a manager with a penchant for nostalgia. I'm not sure I buy Arsenal's interest, however.

At worst, it's lazy rumour-making from 'the media'. At best, it's lazy 'scouting' from Arsenal. For my money, eight million pounds is a believable sum, but at 28, Williams has no resale value. That doesn't fit in with Arsenal's traditional youth policy, or indeed their more recent 'selling all their best players' policy.

Even teams without so much emphasis on youth might balk at spending a medium amount of transfer money on a player who, although in his prime right now, might only offer another three years of top form.

With all due respect to Williams, who has been tremendous for the Swans of late, the Arsenal scouts need only turn their heads 10 yards to the side to find a more attractive option -- Chico Flores. The Spaniard represents the aggressive, wandering defensive foil to solid, stalwart Williams, is three years younger and has so far been statistically superior in almost every defensive category, if that matters.

Perhaps the difference in style is significant -- Chico belongs to that 'crazy' breed of central defenders whose enthusiasm can infuriate managers and team-mates as much as delight fans and intimidate opponents (see: Luiz, David).

In saying that, I think after a few dicey early performances with the Swans, Chico has settled down to become an extremely valuable member of the team. Maybe the reason his name stays out of the rumour mill is that not every manager is cut out for taming beasts like Chico.

Williams is comparatively old-fashioned. He is the model of reliability and predictability and is less injury-prone than Bruce Willis in Unbreakable. Perhaps those qualities are exactly what a defensively suspect side such as Arsenal need. With money to spend though, I would question whether Williams was the best player available to Wenger at this moment.

Arsenal are a side with the reputation, money and scouting network to have identified less obvious (or at least higher-profile) targets than Williams, whose sudden connection to a club that has notorious defensive shortcomings seems awfully convenient, especially in light of the Swans' recent Cup win and associated inflated media coverage.

If Williams goes anywhere this summer, which I doubt, then my money still says it will be to Anfield. Isn't it ironic that there is a small possibility Swansea will be able to offer Williams one thing neither Arsenal or Liverpool will -- European football?