Swans try to reach 40 against ailing Magpies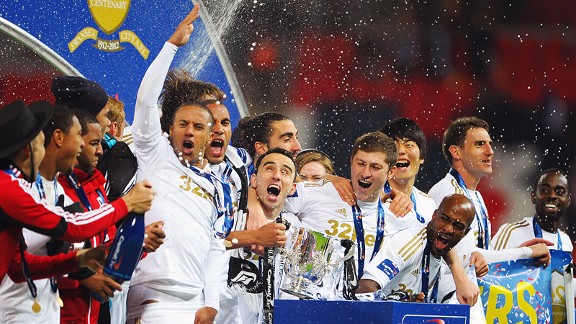 Michael Regan/Getty ImagesIt's back to Premier League reality for League Cup champion Swansea, who have a new goal of ninth place and 50 points in the PL table.
Their Cup glory now behind them, Swansea return to Premier League action Saturday as they will welcome underachieving Newcastle United to the Liberty Stadium.

Michael Laudrup has been careful to remind his players to re-focus on the league, citing a new 50-point and ninth-place target for the season. Last season, the Swans surprised even themselves in finishing 11th; Laudrup rightly feels this side are better than last year's -- somewhat already proven by the cup success -- and would rather his team looked to extend their success rather than drop a few places (and more than a few pounds of prize money) in the standings.

-- Ki back in central role for Swans

The Swans ought to make some progress towards that target by hitting 40 points with a win. Any ambitions Alan Pardew's side might have had of building on their success of last season were derailed early on by an unfortunate spate of injuries which still persists.

Saturday's encounter will see Newcastle without captain and chief defensive stopper Fabricio Coloccini, which won't comfort backup keeper Rob Elliot, himself standing in for the injured Tim Krul. One of Newcastle's new influx of Frenchmen Mapou Yanga-Mbiwa should start for Coloccini, although it seems unlikely that countryman Hatem Ben Arfa, recovering from a hamstring injury, will be troubling Swansea's Ben Davies much this time around.

The Swans ought to put the aberration of their 5-0 humiliation at Liverpool in some context by playing a full-strength squad similar to the one that faced Bradford City in the League Cup final. Centre back Kyle Bartley ought to allow midfielder Ki Sung-Yueng to move back into midfield, although the task of covering for injured Chico Flores might fall to Garry Monk instead. With Monk representing the past and Bartley the future, it would seem prudent for Laudrup to let the youngster benefit from a little more competitive game time on this occasion.

Elsewhere, the possible combinations of Jonathan De Guzman in the hole with Michu up front, or De Guzman deep with Pablo in the hole, represent two of something like a dozen different plausible attacking configurations. With some significant silverware in the club trophy room and the side a hair's breadth from the 40-point safety margin, I think we can expect to see a little more experimentation from Laudrup the remainder of the season.

Fifty points and ninth place are respectable targets, but if Laudrup is to make the most of his side's European invitation next season, he'll need a good idea of the capabilities of his existing playing staff, or at least those he intends to keep. That way, he can make better decisions about where to strengthen the team in the summer.

So far, Laudrup has understandably gravitated towards a 'best' lineup to maximise the chance of a good result. While that approach may seem obvious, the rigours of competing on more than one front next season with a small squad will force changes whether Laudrup likes it or not. He'll have to know who he can lean on in different situations, and not all his players have been thoroughly tested.

With an undemanding schedule for what seems like the first time since autumn, I might not expect to see anything radical as early as Saturday. But when the Swans start getting close to those targets, I expect to see Laudrup shuffle the deck a little bit more. Three points on Saturday will mean the forward planning can start that much sooner.