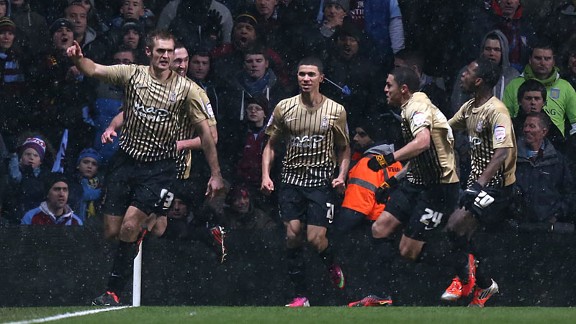 PA PhotosBradford striker James Hanson wheels away after scoring in the semi-final
Swansea City are just days away from a Wembley final and the chance to win the first major domestic trophy in club history. The feat would be a coup for first-year manager Michael Laudrup, who has spoken openly of his fondness for cup competitions.

- Cup final nothing new, Laudrup says

Standing in the way of Laudrup and the Swans' Cinderella story are league two Bradford City, whose own Cinderella story makes Laudrup and the Swans look like the ugly stepsisters, if not quite ugly ducklings.

I'll go into more depth about the Swans side of the contest in my next blog. For now, here's an overview of how the sides match up heading into the final.

Tactics
As might be expected of many a lower-league British side, Bradford City will likely field a 4-4-2, or near enough to it. They'll want their wide midfielders to watch out for the dual threat of Swansea's attacking full-backs, whilst the classic front-two combination of massive target man James Hanson and diminutive poacher Nakhi Wells will give Bradford a chance to create mis-matches in the Swans defence.

Swansea will play their usual 4-2-3-1 formation and thanks to the reserve team massacre at Anfield last weekend, will be able to feature their strongest possible squad. When on form, the likes of Michu, Pablo and Wayne Routledge have been very difficult for Premier League defences to contain. Given Arsenal's poor performance against Bradford, Swansea are arguably a better attacking side than any of the three Premier League teams their opponents have faced so far.

Swansea's defence v Bradford's attack
Swansea's Chico Flores will miss the game through injury, which throws open an opportunity for Bradford. Striker James Hanson is a significant aerial threat. The Swans can be susceptible from set-piece situations and will now be playing without their tallest defender. Veteran Garry Monk certainly has the positional smarts to deputise for Flores, but positionally suspect Kyle Bartley is taller. Do the Swans play the man who can mark Hanson but can't compete with him in the air, or the man who can compete for the high balls but might not be in the right place to do so?

Swansea's midfield v Bradford's midfield
Leon Britton seems a cert to start for the Swans, but the lower leagues create combative midfielders, and Bradford's are no exception. Whoever starts next to Britton, be it Jonathan de Guzman or Ki Sung-Yueng, they'll have to be prepared to get stuck in a little bit more than usual. Bradford midfielder Gary Jones once played eight games for Swansea City back in 1997.

Swansea's attack v Bradford's defence
One thing that has consistently benefited the Swans attack this season is the support play of those behind the front four. With full-backs Ben Davies and Angel Rangel helping to create overloads, and Jonathan de Guzman chipping in with goals, Bradford will have to look beyond Michu if they want to stop the bleeding before it starts.

Swansea's best chance
The Swans must be careful not to try to do too much too soon. It is not often the Welsh side are considered the overwhelming favourites, and the way they cope with the pressure will be key. If they go into the break at 0-0, nerves might start to seep in. If Bradford score first, they'll face a real test of character. The Swans best chance is to just concentrate on playing their own game in their own time, and believe that the result will come. From top to bottom they are the stronger side.

Bradford's best chance
Set-pieces. That's not to suggest the side can't be a threat from open play - if the Bradford wide men can find space behind Swansea's marauding full-backs they might be able to create chances, and the elusive Nakhi Wells has a knack for finding himself in good scoring positions. However, big James Hanson and the two or three inches of height he has on Swansea's next tallest defender suggests that corners and deep free-kicks will be Bradford's best source of clear-cut scoring opportunities.

Early prediction
I have to go for Swansea. If the Swans can open the scoring, Bradford's task will be that much harder - the Swans are the Premier League's best team when defending a lead after scoring first. The 5-0 drubbing at Anfield will hopefully have had the effect of lulling Bradford into a false sense of security... just so long as the Swans themselves haven't forgotten how to play.