Stand in Swans no match for S-A-S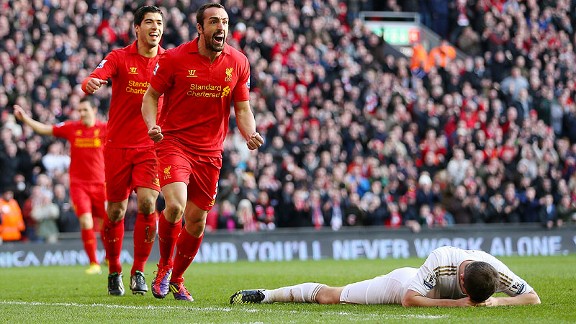 Clive Brunskill/Getty ImagesA Swansea side largely composed of backups were left flattened by Liverpool on Sunday.
Swansea prepared for next week's league cup final in which they'll face a league two team by playing like one, and in the process made the 2013 Liverpool look like the 1988 Liverpool. The 5-0 battering at Anfield flattered to deceive; Michael Laudrup deliberately fielded a side predominantly composed of backup players, presumably to rest his starters ahead of the cup final and avoid injuries.

- Match report: Liverpool 5-0 Swansea

Swansea's regular centre back pairing of Ash Williams and Chico Flores has been a safe foundation for the Swans this season. With neither player featuring, the Swans defence was always likely to be vulnerable to the attacking talent of Liverpool's Luis Suarez and Daniel Sturridge. Of the makeshift back four, only left back Ben Davies could be considered a first team regular, and he had a game to forget, making Stewart Downing look like the player Liverpool thought they were buying for nearly 20 million pounds a couple of seasons ago.

In central defence, Chico was ruled out of this game -- and will also miss the final -- with injury, while Williams' distaste for Suarez might have put him on the front page as well as the back had he played, so Laudrup took the opportunity to let veteran Garry Monk and rookie Kyle Bartley battle it out for a starting berth in next week's final.

It is hard to commend any player from a team on the wrong side of a 5-0 scoreline, but Monk did enough to assert his right to hoist some silverware next week -- assuming of course the Swans don't put in a repeat performance. Having just returned from a four day training camp in Dubai, it seemed as though the Swans had left their footballing ability in lost luggage.

There was always going to be a risk of a blow-out scoreline in daring to visit Anfield with a reserve team, but this Swans side struggled to get even the basics right. Time and again, the Swans players continually backed off Liverpool's ball carrier, giving up so much time and space the defence might as well have not been on the field.

It is hard to remember one convincing tackle from a Swans player all game, and although Suarez conned referee Howard Webb into two early free kicks (both wasted), his penalty was fairly given, and once Liverpool had taken the lead, the Swans' composure promptly left the field. Swansea showed next to nothing in attack all game, which poses the question -- why didn't they just park the bus again?

Laudrup's newly engineered ultra-defensive look has paid dividends against big sides already this season, and yet against Liverpool, the Swans had no shape and were caught out of position and upfield without any attacking play to account for it. The lack of cohesion, particularly in defence, made the Anfield turf seems twice as wide, with Sturridge, perhaps, best exploiting the acres of real estate left exposed in the Swans' third. There were times when Liverpool's new striker couldn't have been more open if he was an Irish pub on St Patrick's Day, and he wasn't the only one, as the eventual five goal scoreline more than demonstrated.

I feel sorry for the Swans squad players, who were asked to take this one on the chin today to preserve the big hitters for the league cup next week. If that game goes the Swans' way and ends with the club's first major silverware, then this result will be little more than a blip in an otherwise excellent season. It's just a shame it had to come against the Swans' former boss, who might well be wondering what he did to deserve such an easy ride.

Final Thoughts:

Positives:

Negatives : Less tackle than an out-of-season fishing supplies shop after a robbery. Gifting bragging rights to the old boss. Denting the confidence of the Swans' faithful squad players. Itay Shechter's propensity for falling over without even earning a free kick in the process -- maybe he should have a chat with Suarez?