Swansea success hard to duplicate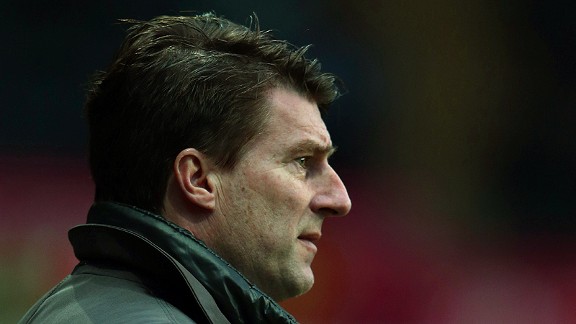 Warren Little/Getty ImagesSwansea has not missed a beat under the guidance of first-year manager Michael Laudrup.
The Premier League may not have long to wait until Swansea City's archrivals Cardiff join the party to re-establish one of British football's fiercest derbies. Until then, it is Liverpool who bring the most edge to the Swans' fixture list following the defection of former manager Brendan Rodgers and his poaching of Swansea youth product Joe Allen.

The sides have met twice already this season, with the Swans producing a goalless draw at the Liberty Stadium in league play and a respectable 3-1 win in the Capital One Cup. Having since progressed to the final in that competition, the Swans players might be forgiven for having half a mind on their Wembley date with Bradford next weekend. However, Michael Laudrup's men need only three more points to reach the magic 40-point threshold, and what better way to earn them than against Rodgers's Reds?

- Laudrup set for new Swansea deal

The trajectory of both sides' Premier League fortunes since the managerial switch last summer has been interesting to watch, although not entirely surprising for Swans fans. The Liverpool board's choice of Rodgers as successor to Kenny Dalglish was obvious; Liverpool have long had a history of pass-and-move football, and Rodgers' sides certainly fulfill the 'pass' part of the philosophy, even if they're sometimes left wanting in the 'move' part.

However, if John Henry thought he could bring back the glory days simply by poaching Swansea's manager (and paying for him to poach Swansea's midfield pivot in turn), he was mistaken. It is easy to understand the attraction -- if someone like Rodgers can do so well with a small side of modest means like Swansea, just imagine what he could do with more resources. It was similar thinking that lured Roberto Martinez to Wigan some years earlier.

If it were that simple, Liverpool would not be trailing Swansea in the league standings nor have been knocked out of the league cup. Similarly, Martinez, given years to shape Wigan into another ersatz Swans, has failed to do so. Swansea are performing better than either and on a salary structure that wouldn't pay for the postage on Luis Suarez's hate mail.

That is not to say either of these sides is all that bad. Given time, Rodgers ought to restore Liverpool to Champions League consideration, and Wigan are always entertaining, if nothing else. But the Swansea secret does not lie in one manager, or one player. Rather, it is a culture that has been gradually inculcated over time.

Chairman Huw Jenkins has presided over a succession of perfect managerial appointments (even the maligned Paulo Sousa played his part -- he taught the Swans how to defend properly), while the side's transfer policy has reliably renewed the squad with an influx of players hand-picked to thrive in the system. Just look at Wayne Routledge. Formerly British football's most notorious nomad, he is now playing the best football of his career with a club that knows how to extract top-dollar performances out of each of its squad of castoffs, misfits and bargains.

Anyone can understand Henry's desire to steal a little bit of the Swans' sunshine, but this is a side that is truly more than the sum of its component parts. Rodgers left town, but he still has questions to answer about a Plan B, about his tactical nous when faced with the really big matches, about his legitimacy as a big six manager. Allen's salary might have increased, but his importance to his side has decreased by the same measure; has he really added 15 million pounds of value to Liverpool Football Club?

Those who have shone for the Swans have a history of losing their lustre when they move away, yet the Swans go on, stronger than before. It is another part of the club's culture, this small, partially supporter-owned obscure Welsh side; a sexy side, easy on the eye and popular with the neutrals, and one that is quietly becoming the perfect model of a modern football club. At the risk of sounding trite, that's something you just can't buy.