Five reasons for Laudrup's success
Swansea City have recently been taking care of some important business behind the scenes, offering new contracts to the likes of Leon Britton, Gerhard Tremmel and Michu. Now the board have turned their attention to their coveted manager, Michael Laudrup. The great Dane has another season on his existing contract, and the parties are in talks to add another year.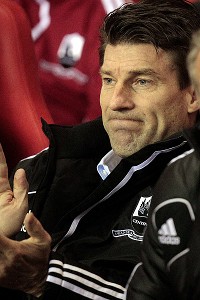 Graham Stuart/AFP/Getty ImagesMichael Laudrup has many reasons to be satisfied with the job he's done as Swansea manager.
Casual observers might dare to suggest Laudrup simply inherited a team of high achievers from his predecessor Brendan Rodgers, and they'd be wrong. Laudrup's impact on this side has been both significant and vital; it is doubtful that a duplicate of last season's performance would have seen the Swans continue to make waves in the Premier League.

Here are Laudrup's top five masterstrokes so far:

1. Transfers
While every manager appreciates the opportunity to put his own stamp on a side, few have been able to do so much with so little in such a short space of time. For 15 million pounds - the fee Swansea received from Liverpool for Joe Allen - Laudrup secured the signatures of Michu, Pablo, Ki Sung-Yueng and Chico Flores. He also added Jonathan de Guzman for little to no initial outlay on a season-long loan. These five players have come to redefine the way Swansea City play. Nobody would have expected a two-million-pound midfielder to be among the league leaders in goals scored - except perhaps Laudrup.

2. Attack
On paper, the Swans still line up in the 4-2-3-1 formation familiar from the Rodgers days, but the execution is somewhat different. The wide players tuck in and channel play through the middle, while the full-backs are given license to come forward and join the attack. When the Swans are on the offensive, there is a new urgency which was consistently and conspicuously absent from Rodgers's side. The auxiliary scoring coaxed from players like Wayne Routledge, Nathan Dyer and even both full-backs is evidence of the enhanced attacking threat Laudrup has created.

3. Defence
A criticism of Rodgers's Swans and reason number one why his side would have struggled this season was the lack of a 'plan B'. When opponents worked out how to beat the Swans (see: Moyes, David), Rodgers had no answer. Laudrup has a plan B. His Swans side are now capable of parking the bus, and grinding out points away from home against tough opponents. Laudrup's Swans finally matched Moyes' Everton (0-0 away from home), and leveraged a defensive stand into an unlikely 2-0 away victory in the Capital One Cup semifinals against Chelsea.

4. Squad Management
Since reaching the Premier League, Swansea have gradually undergone the squad transformation necessary to survival, where better players are introduced at the expense of those who can no longer cut the mustard. Laudrup has had some difficult decisions to make. He has been burdened with the task of easing contemporary club legends like Garry Monk, Alan Tate and, to a lesser extent, Mark Gower out the door. It is a process which can upset die-hard fans, especially if handled badly.

Laudrup has been delicate with the swings of his axe; Tate enjoyed a loan spell at Leeds, and is likely to see a permanent move away from Swansea in the summer. Monk has proven his worth as an emergency backup, and will be eased into a coaching role possibly as early as next season, whilst others such as Leroy Lita, Mark Gower and Luke Moore will be quietly shown the back door.

Laudrup's handling of the Danny Graham situation was his boldest move. The majority of fans wanted to see Graham stay, but Laudrup knew the player had no future in his system, and did well to get five million pounds for him, given how few starts he had made.

Laudrup realised that Graham was worth more to the club as a means to generate income than as a bit-part player, and was brave enough to sell the popular frontman without even replacing him. It's all part of Laudrup's long-term plan, and his willingness to face some fan backlash in the short-term whilst his long-term plans come to fruition shows vision and resolve, although only a crazy Swans fan could be unhappy at Laudrup's success so far.

5. Europe beckons
All of these factors have come together to see Laudrup's Swans reach new heights. Swansea sit in seventh place in the Premier League. Winning this month's League Cup final will see Swansea enter European competition for the first time since 1991. It is entirely fitting that the man to take them there is himself a legend of European football.