Why 'little' Britton is a big investement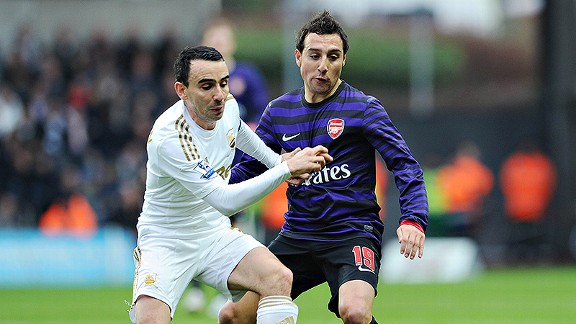 David Price/Getty ImagesSwansea's Leon Britton, seen here tangling with Arsenal's Santi Cazorla, has earned a contract extension with the Swans.
Swansea City midfielder Leon Britton surpassed the 400 appearance milestone for the club earlier this season and will now have a chance for 500 after signing a new three and a half year contract extension.

- Britton extends Swansea deal

Much has been made of 'little Britton' since his arrival on the bigger stage of the Premier League. Swans fans are thankful his widening appreciation hasn't resulted in a move away, as it did with Britton's former midfield counterpart Joe Allen.

The younger and more athletic Allen was always the better business proposition (and Allen had a helpful release clause in his contract), and yet as good as Allen's statistics were, he was always second fiddle to Britton. In fact, most of Europe were second fiddle to Britton at various points throughout last season, especially in terms of passing accuracy.

This is a situation which continues to persist, although now the novelty has worn off and we don't get to hear about it as much. Regardless, Britton continues to put in the same quietly effective shift game in, game out.

Britton's particular talents are somewhat inscrutable; he is not big, nor strong, nor fast. He doesn't have a powerful shot or a reputation for Hollywood long-balls, and he won't dazzle with mazy runs and heel-toe magic. Well, perhaps a little bit of magic.

Britton is the kind of player that thrives in a system; it has been said he wouldn't be as effective in any other team, and while that sounds like a slight, it's one Swans fans won't mind.

Here's a closer look at the architect of 'Swansalona', the tick and the tock of the Swansea clock.

Most Likely To...

Look after the ball like it's his first born, and chalk up over 90 percent passing accuracy while doing it.

Britton's primary strength lies in his composure. He has been the conduit for the Swansea transition game for a long time now, typically occupying the deep space between the split centre-halves, offering a safe out for the 'keeper.

He is incredibly calm under pressure, routinely fending off more than one challenger before extrapolating the ball from a tangle of feet and sliding a precise pass to a teammate. Not so much a classic ball-winner as a forager and ball thief, Britton picks apart the slack in opposing teams' attacks.

His technique is underrated. Few players have Britton's close control, and fewer still opt to use that skill in a largely defensive role.

Least Likely To...

Score.

Britton's defensive acumen has been nurtured over time. When he first came to the Swans, he was tried in a few different roles throughout midfield, but found his niche in the Swans' own third.

Perhaps his last memorable goal -- if not his last goal in general -- was a spectacular long-range curler against Nottingham Forest in the Championship playoffs of 2010-11. He's Swansea's own John Jensen in that respect.

Britton will occasionally find himself skirting the opposing 18-yard area; the stadium-wide encouragement to "Shoooooot!" in these situations will tell you all you need to know about his actual chances of scoring (about four percent, over his career).

The Stats




Here are the top ten passers in the Premier League so far this season. This chart only features players who have made over 1000 passes to date.

Swansea are well represented with three players in the top ten -- the same as Liverpool. Once again, Allen is a close second to Britton. Perhaps the biggest surprise (beyond Per Mertesacker in fourth place) is that Swansea's own Ki Sung-Yueng is second overall -- stats worthy of a closer look in the near future.

Swansea apart, the other four teams represented here -- Arsenal, Tottenham, Liverpool and Manchester City -- are all 'big six' sides, evidence that the Swans passing game truly rates among the best. And Britton is right in the middle of it, as usual.

With this kind of passing pedigree, it is no wonder the Swans wanted to tie the 30-year-old Britton to a longer contract. When you know your midfield can reliably pass a ball with better than 90 percent accuracy, then your team is in safe hands (or feet) -- and few are safer than Leon Britton's.