Swans attack continues to sputter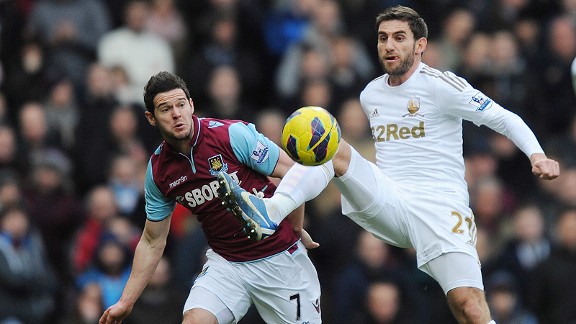 Steve Bardens/Getty ImagesSwansea's Angel Rangel, right, fends off a challenge from West Ham's Matt Jarvis, left, during Swansea's 1-0 defeat at Upton Park.
Swansea's search for a convincing solution to their striker shortage started poorly with another impotent attacking display. West Ham were allowed to take a 1-0 victory despite an impressive performance from Gerhard Tremmel in the Swansea net.

- Match report: West Ham 1-0 Swansea
- Michu left out of Spain squad

The loss ended a seven game unbeaten streak, although that run isn't quite as impressive as it sounds. It would be just as accurate to say the Swans have won only two of their last seven league games, now eight. What this indicates is that the side have been drawing an awful lot of matches, and three of the five draws over this period have been goalless. Factor in today's loss, and you can say the Swans have failed to score in four of their last eight league games.

Swansea's tough run of fixtures against strong teams in three different competitions over the festive period and New Year saw the side find a new defensive solidarity and resilience. While this has obviously been a positive development, the concern now is that the evolution has taken its toll on Swansea's ability to attack.

At the start of the season, Michael Laudrup's Swans boasted a brand new cutting edge; greater attacking purpose and more penetration executed at pace. The difference compared with last season's slow-as-molasses, Rip Van Winkle football was both welcome and necessary. However, after spending so much time in the defensive trenches of late, Laudrup's Swans are increasingly starting to resemble Brendan Rodgers's somnambulists.

Against Sunderland last Tuesday, the Swans threw away two points for the want of more attacking hunger. The game was there for the taking, but the self-sabotaging complexity of the Swansea attack coupled with a Sunderland resurgence in the second half left important points on the field. West Ham put up a better fight and created sufficient chances to have put themselves ahead earlier if not for the ever-alert Tremmel. And, as is becoming increasingly typical, it was only following Andy Carroll's late goal that the Swans started to look remotely dangerous going forward.

Swansea are a side seemingly full of attacking talent but low on either confidence or purpose. Had the Swans attacked West Ham from the start with the vigour and urgency they showed when chasing an equalizer, they would almost certainly have found one goal to celebrate. The corollary is that had the Swans been more offensive, they would have left themselves open defensively and probably conceded earlier anyway. But in truth, the Swans easily could have coughed up an early goal as it was; Tremmel the only reason the score was level for so long.

Goals change games, as the saying goes. Recently, the Swans have had a knack for conceding late and not giving themselves enough time to equalize. Danny Graham seemed to be the answer and was establishing himself as an impact substitute par excellence following a number of game-saving late goals from the bench. Of course, Graham is gone, so the chance fell to Luke Moore instead, who nailed the sub part but couldn't provide the impact.

Would it hurt the Swans to throw caution to the wind when playing embattled mid-to-lower table sides, and go for the throat early and often instead? Players like Michu, Pablo, Wayne Routledge and Jonathan de Guzman ought to allow the Swans to win a shootout with any other club of similar stature. It is typically the lot of the Premier League's lesser lights to be workmanlike and basic, but the Swans are an anomaly. They are a side packed with skill, but have recently been spurning their own advantage by playing to the strengths of their opponents instead.

In short, if you're the one bringing the gun to a knife fight, then it makes sense to darn well use it.

Final thoughts:

Positives: Gerhard Tremmel.

Negatives: Swans attack too fussy, too slow and ultimately too harmless. Where has the early season composure and intent gone?