Swans come up short on D-Day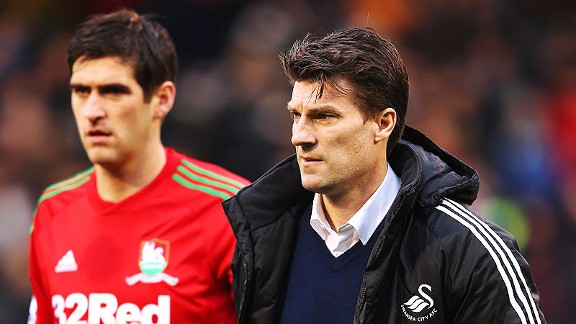 Ian Walton/Getty ImagesThe sometimes uneasy relationship between Danny Graham and Michael Laudrup is over, but Swansea did not do anything to compensate for Graham's departure.
Swansea might have turned a small profit in dealing Danny Graham to Sunderland, but the club's failure to bring in a replacement striker topped off a disappointing deadline day.

I'm sure nobody needs reminding that Danny Graham was the club's leading scorer last season. Graham had been comfortably eclipsed in the scoring stakes by newcomer Michu this season, and allegedly didn't get along with new boss Michael Laudrup. It certainly seems to be the case that Graham was not a good fit for Laudrup's football; the Geordie had been benched for weeks before a compact Christmas and January schedule created an opportunity for Graham to start a few games.

It's not as though he didn't take that chance either, scoring four goals in four games on the bounce. Graham is a proven Premier League scorer, which is more than can be said for backup Luke Moore or loanee Itay Shechter, and it's not as though either of those players were turned loose this window. Granted, Shechter is only with Swansea on loan and at least provides some cover; terminating that loan would only weaken the team, though by how much is debatable given the forwards lack of impact so far.

Moore is out of contract in the summer and has little to no transfer value. It really had to be Graham, the only forward worth any money in the market, and a high earner which the Swans would be loathe to pay if he was only likely to be used as a sub under Laudrup. The frustration lies purely with the fact the Swans were unable to find a replacement. It is incredibly hard to believe that in all of world football there was not one striker available for the kind of money Swansea are offering that would fit the system.

Kenwyne Jones's salary demands were allegedly too rich for the Swans stringent wage structure, and the club will hear no complaint for holding to their principles. Jamie Mackie might have joined from QPR had Rangers been able to sign Peter Odemwingie from West Brom. Mackie has a good track record of scoring against the Swans, and while it would have been nice to have him score for the Swans instead, he would represent another useful rotation option rather than the higher profile starting striker the Swans need.

A last-ditch attempt to wrangle Manu off Sevilla's books also came to naught. Manu has played under Laudrup in the past, just like previous signings Jonathan de Guzman and Chico Flores, and so is exactly the sort of signing I had anticipated in the wake of Graham's departure.

It seems the Swans had decided not to break the bank on a desperation signing, and I wonder if the long-term plan is to keep the transfer kitty intact until the summer, when Laudrup can make another run at signing Celta Vigo's Iago Aspas. Aspas refused to move in this window, but might be more receptive in the summer. His £8.2 million release clause isn't going anywhere either, and a stop-gap signing made this window might have used some of the money the Swans will need to meet it.

The money the Swans made from the Graham sale will no doubt be useful, but if neither Shechter nor Moore (nor someone else) can step up, then I wonder if the decision to sell will start to look a little less profitable, especially if Michu is injured. I had honestly expected Laudrup to pull something out of his hat (i.e. La Liga's bargain basement) at the last minute. Perhaps he did, too. It will be interesting to see how the Swans deal with their self-imposed striker shortage. With the talent at wing and in midfield, maybe it's time to entertain the fabled 4-6-0 formation . . .

Overall Transfer Window Grade : C-plus: The striker situation is obviously cause for concern, but the earlier acquisition of Roland Lamah looks like good business. Meanwhile, the Swans have managed to farm out several of the squad's younger players on loan deals which will be valuable for the side's future development.