Swansea City book Wembley date with Bradford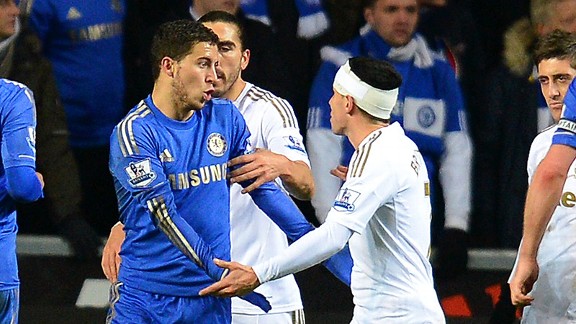 Andrew Yates/AFP/Getty ImagesBandaged Leon Britton was not only a stalwart of the Swansea defence, he was among the Swans who stood up to Eden Hazard, left, who got a red card after getting into a confrontation with a Liberty Stadium ballboy.
A supremely composed second-half performance against a lacklustre Chelsea Wednesday was enough to see Swansea City through to their first major Cup final at Wembley, with the scoreless draw giving them a 2-0 win on aggregate.

The Swansea defence once again rose to the occasion, with Ash Williams and Angel Rangel particular standouts. Leon Britton survived an elbow to the head which drew blood, and played on manfully with a helmet of bandage, while Chelsea's Eden Hazard will no doubt have stolen his share of the headlines for beating up a ballboy.

-- Swansea earn Cup final against Bradford

That's obviously an exaggeration, but while it is easy to understand Hazard's frustration there's no excuse for his petty assault, even if the ballboy was showing more gamesmanship than Gareth Bale and Ashley Young playing monopoly with Luis Suarez as the banker.

Regardless, Chelsea's protests over lackadaisical ballboys or the extra few seconds here and there that Swans keeper Gerhard Tremmel was taking over goal kicks amounted to little more than deflecting attention from their own lack of performance.

It wasn't as though Chelsea didn't have an ample share of the ball or enough chance to control their destiny in this competition. The truth is, they came up short against a better organised side who wanted it more, and for whom the competition no doubt means more, too.

Chelsea's best moments were mostly restricted to the first half, with the Swans looking a lot more composed in the second, although Michael Laudrup's men openly played the counter all game long. As predicted, there was no real attempt to park the bus in this game; although the Swans' stance was defensive - there were more long clearances, for instance - there was sufficient attacking intent to keep Chelsea on their toes, and stop the blues from flooding the Swans third.

Perhaps the difference in the sides was best exemplified in the last 10 seconds of the sixth and final minute of added time; when Michu threw himself full-stretch to win back the ball, and then made a second effort while on his back to gain possession. The game was won, the whistle seconds away, and yet Michu was dirtying his Swansea whites with a grand gesture of effort - an ingredient apparently lacking from Chelsea's DNA this night.

That is to take nothing away from the Swans; it is not as though Chelsea did not start the game fairly well, and in fact looked the more dangerous side for ten or 15 minutes in the middle of the first half. However, the Swans defensive organisation is enough to frustrate the best - enough to drive grown men to kick out at children, in fact - and when Chelsea needed a break, or a favourable bounce to set them on their way, it didn't come, and the Blues determination seemed to gradually ebb away for the remainder of the game.

I've said it before, but it is amazing how often top teams dry up when they come to the Liberty, and find things don't quite go their way. It is a testament to the Swans defensive solidarity and 90-minute work ethic. Now the Swans have earned their way to a league Cup final showdown with Bradford of League Two.

For once, the Swans won't even be marginal underdogs - they'll be heavy favourites and have to endure the pressure that position entails, which isn't something they're used to. Bradford have reached the final after beating three top-flight teams; whatever they're doing, it's working. It might be that the Cup goes to whichever side can live up to the occasion the best, although the vast green sward of Wembley will suit the Swans style literally down to the ground.

This year is the Swans 100th. A Cup to celebrate seems about right.