Evolving Swans beat subdued Stoke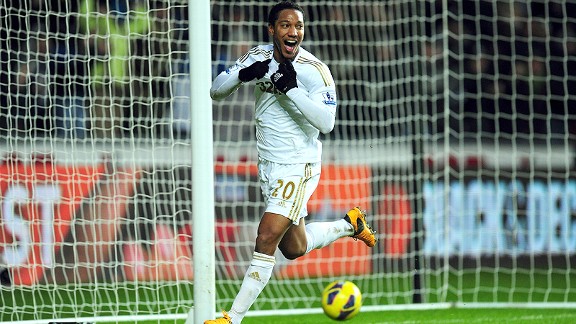 Stu Forster/Getty ImagesSwansea's Jonathan de Guzman was all smiles while celebrating the second of his two goals versus Stoke.
Over the Swans' hectic Christmas and New Year schedule, Michael Laudrup has played the rotation game superbly. His starting lineup for Saturday's 3-1 victory over Stoke once again saw some changes, and once again got a result.

- Laudrup hails perfect preparation

Stoke, who played most of the game with Peter Crouch as their lone striker, weren't likely to trouble Swansea for pace, so veteran Garry Monk got a start in defence in place of Chico Flores, who was rested as a precaution after suffering a minor knee injury.

Itay Shechter got a rare start up front in place of Danny Graham, who was demoted to the substitutes' bench last minute after the striker apparently complained of an illness. What kind of illness keeps a player out of the starting XI but leaves him healthy enough to feature from the bench is anyone's guess, unless keeping a good-as-sold player injury-free so as not to scupper a certain transfer counts as an 'illness'.

In the event, Shechter was ineffective for most of the match despite a strong start and lots of running, and was substituted for Graham late in the game. The Geordie, whose introduction was met with chants of "Danny Graham, we want you to stay", set-up Jonathan de Guzman's second goal with a wonderful touch and won't have hurt his transfer value.

Potential Graham replacement -- Stoke's Kenwyne Jones -- also featured from the bench, and was largely anonymous; an epidemic which appeared to affect most of his teammates. Stoke's flat performance even extended to their set pieces. It was notable that Swansea, who are the Premier League's least threatening team from set pieces, always seemed the more likely to score from dead ball situations.

And score they did, when de Guzman rifled in a perfect direct free kick, a goal which turned out to be the game-winner after Ben Davies had scored a memorable first -- in both the game and in his career -- with an excellent solo effort. The slim 19-year-old outmuscled three Stoke defenders en route to sliding the ball past one of the Premier League's better 'keepers and looked as shocked as anyone else when the ball hit the back of the net. De Guzman meanwhile ended the game with a brace, a just reward for a player whose stock has risen sharply in recent weeks.

It was refreshing to see the Swans back to their attacking best after a couple of weeks of bus parking and defensive entrenchment. The free-flowing attacking football on display wasn't just vintage Swansea football, however the absence of Leon Britton from the team sheet saw a shift in the way this side played its football on Saturday.

Britton's importance has been a key issue for the Swans, and is an example of how a team's greatest strength can often be its greatest weakness. Everton's David Moyes, among others, have recognised that to stop Swansea, you really just need to stop Britton. Laudrup has clearly recognised this, too -- in an attempt to mitigate the imbalance of Britton's importance, he has developed a new tactical tweak.

Aware that a physical side like Stoke would always look to press the Swans -- and Britton in particular -- in their own third, Laudrup dropped Britton to the bench to deny Stoke an obvious target, and instead employed Ki Sung-Yueng and de Guzman as the two deep midfielders. This in itself is nothing new, but something else was new.

Rather than have one of the two deep midfielders play 'the Britton role', Laudrup did away with it completely; both Ki and de Guzman seemed to have the same 'box to box' role on their respective side of the pitch, the one covering the forward advance of the other. The result was that the Swans moved the ball through midfield far quicker than even in the early part of this season. With the danger of being caught in possession in their own third negated by the faster transition game, the Swans were able to play more of their football in Stoke's half, and looked less predictable and more of an attacking threat as a result.

Britton eventually did come on to shore up the defence as the Swans looked to see the game out, but the small change in the way the Swans' deep midfield operates proved significant. Even in recent games, Britton has been playing further forward than in the past; it seems as though Laudrup might have found a way to unplug the Swans lynch-pin while still keeping everything together, and in doing so, has given his side better balance and greater attacking scope.

Final thoughts:

Positives: Davies' brilliant goal. De Guzman's emergence. Ki looking better. New midfield dynamic could mark an important evolution for Swansea.

Negatives: Losing Michel Vorm's clean sheet so close to the end.