Jones centre stage as Swans look to reinstate attack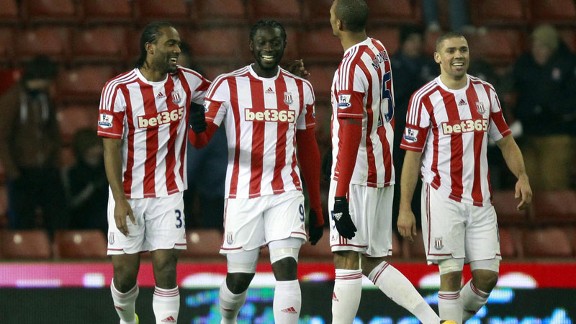 GettyImagesStoke's Kenwyne Jones has been linked in the press with a move to Swansea
Assuming snow doesn't stop the game, the Swans will host Stoke on Saturday and hopefully look to reinstate their attacking football after a tough schedule had forced Michael Laudrup to employ ultra-defensive tactics in recent matches.

On the subject of defence, Stoke have among Europe's best, which should be enough incentive for Laudrup to remove the shackles. Helping the cause will be the likely return of Michu and Pablo, although that's to take nothing away from the rotated squad who did so well against Arsenal.

Of particular interest to Swans fans will be the opportunity to assess rumoured transfer target Kenwyne Jones first hand. Jones is apparently another piece in the potential striker merry-go-round. Supposedly, Swansea are prepared to sell Danny Graham but not until they have secured a replacement, whilst Stoke are also prepared to sell Jones... but not until they've got a replacement either. Perhaps the two clubs should just do a straight swap and be done with it - the asking prices being touted are the same in either case - about £5 million.

I still consider the Kenwyne Jones situation as slightly out of character for Swansea. I wonder what sort of information scouting has provided, being since the player has not really been a part of a possession based side like Swansea, who demand a high level of technical proficiency from all their players, with all due respect to Jones's present and former clubs.

There must be evidence the striker can fit the bill; part of the reason I suspect Graham fell out of favour with Laudrup is that Graham is not particularly strong taking on his man with the ball at his feet, and although Graham's off the ball movement is generally very good, he is not a creative force, more a poacher who can (when he's on form) finish chances created by his team-mates.

Jones is tall at 6'2" and a beast in the air, which extends his threat and could allow Swansea to attack aerially, not just on the ground, should he join. He's a physical handful, too, a fact Ash Williams and Chico Flores are likely to be reminded of come Saturday.

If Jones does start, it presents a dilemma for Swans fans; Swansea obviously don't want Stoke to score, but if Jones doesn't score and is kept quiet by the Swans defence, then is he good enough for the side?

The striker distraction aside, the match itself is once again key for the Swans. The side are only three wins and a draw away from reaching the fabled 40 point safety threshold, which still remains the team's priority despite the strong showing in the standings this season.

Last season, the home side won in each game. So far this season, Stoke have kept faith with that trend by taking the Britannia fixture 2-0. The onus is on the Swans to keep up their side, but it will require a reversion to their attacking blueprint if they are to break Stoke's defence.

Here's a quick question - if it does snow and the game still goes ahead, do the Swans have to play in their away strip?