Swans survive second-half farce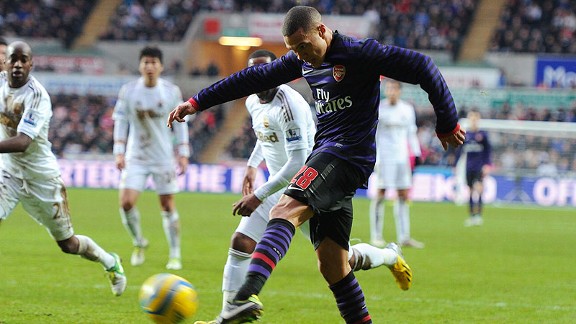 Stuart MacFarlane/Arsenal FC/Getty ImagesSwansea regrouped after an inexplicable second-half breakdown, capped by a go-ahead goal by Arsenal's Kieran Gibbs (above) in the 83rd minute
A freak late burst of bafflingly bad football from the Swans almost gave Arsenal a comfortable and humiliating win, but the Gunners couldn't keep mistakes out of their game either in Sunday's 2-2 FA Cup draw and showed less ability to finish than a supermodel at a seven-course dinner.

Shortly after the withdrawal of Leon Britton on the 69-minute mark, the Swans game went from total football to total garbage, although that's not to suggest any of it was directly the fault of substitute Kemy Agustien. For a scrappy 15 minutes, the Swans were almost comically bad, mis-hitting passes, shanking clearances and looking for all the world like a half-cut pub team.

During this period, Arsenal inevitably scored the goal they had always looked likely to, and equally as inevitably added a second minutes later as so often happens when a previously astute defence suddenly loses its collective shape and mind. At the heart of the chaos lies a weakness in the Swans gameplan this season which has caused - and continues to cause - a lot of unnecessary trouble.

It wasn't the team selection. Michael Laudrup played the rotation game perfectly, fielding a side capable of meeting the occasion while sparing key players in advance of Wednesday's Capital One Cup semifinal against Chelsea. Laudrup also employed well-considered early substitutes to preserve fitness levels amongst Wednesday's most likely starters. His first - Michu for Jonathan de Guzman - reaped instant dividends when the Spaniard again showed clock-stopping composure to open the scoring and antagonise Arsene Wenger once more.

Not long after, the trouble started. The Swans have shown a bothersome tendency to sit back on slim (or even non-existent) leads against certain opponents, typically against stronger sides (the 1-0 loss to Manchester City a prime example). There is some sense to it - the Swans are strongest when counter-attacking, but simply allowing the opponent to stride unchallenged into your own half is a needlessly risky way to generate counter-attacking opportunities.

Although Swansea usually press opponents in every part of the field, now and again they will allow opposing centre-backs to carry the ball to the halfway line and beyond; within one pass the opponent has the ball in a dangerous position, 25 or 30 yards from goal, with the Swans defenders already edging back into their own penalty area.

It stands to reason that defenders are hesitant when tackling in their own box for fear of giving away penalties, and the closer the opponent is allowed to come to the Swans net, the easier opportunities are to create.

Once again, this inexplicable passivity cost the Swans dearly, and probably ought to have cost them the game, so bad was the team's collective defensive effort for that late stretch. Admittedly, the Swans are never as bad as they were for that short span; it is a pity that a good overall performance from youngster Kyle Bartley, himself a former Gunner, might be overlooked in the farce.

Obviously, after going a goal down, the Swans had little choice but to attack in earnest, and lo and behold, they were suddenly dangerous again. Dangerous enough for Danny Graham to score his third in as many games, and his second game-salvaging goal on the bounce. The Swans are always dangerous when attacking, but can be unconvincing when sitting back and inviting pressure.

Which poses the question: why do it? It is an unnecessary tactic which serves no purpose other than to compromise the Swans' attacking strength while offering the other side plenty of time and space to create chances.

The team that best controls the playing space is usually the one which wins; helping the opponent to reduce the field of play to the Swans own third is suicide. The relative ease with which the Swans were able to conjure an equaliser suggests a continued effort to attack rather than sit back and invite pressure might have nullified the need for a replay.

Never mind. The Swans did enough in a game that was entertaining, though probably not in the way the Swans wanted. Graham's stock continues to rise, which is good news for Swans fans - it means either the Swans retain an effective player, or they are able to command a premium for his services should they sell. On recent form, it seems like it would be best to keep him, but what if he is only playing well to ensure a decent offer comes in for him? Time will tell, but it looks like the Swans might need to concentrate on the defense instead of the attack ahead of Wednesday.

Final thoughts :

Positives: Bartley looks like a real player. Tiendalli deserves an extension. Great tenacity to equalize late.

Negatives : Needing to equalize late. That awful patch.