Inconsistency key for Swans and Arsenal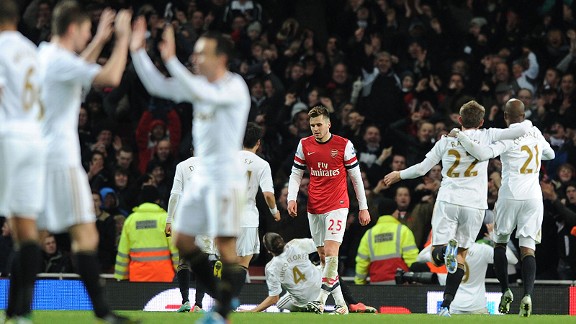 Stuart MacFarlane/Getty ImagesSwansea, seen here celebrating their win at the Emirates this season, will try to continue their winning ways over the Gunners in the FA Cup.
The Swans appear to have Arsenal's number, or close to it, beating the London club at the Emirates 2-0 this season and at the Liberty 3-2 during last year's campaign. Even last season's fixture in London was close, Arsenal just winning 1-0 off a freak goal. Since their most recent victory over Arsene Wenger's men, the Swans have accidentally become draw specialists, while Arsenal have lately struggled to score more than a goal a game on the road. This one could end up going to a replay, but the table won't be set until the team sheets are revealed, with Wenger in particular expected to field a full-strength squad.

- Bennett: Faded FA Cup glimmering again
- Ubha: Four to watch in FA Cup

Realistically, the FA Cup represents the only trophy within Arsenal's grasp this season, and enough has already been said, written and phoned into talk shows about the club's eight-year wait for silverware. Wenger's popularity among Gunners fans has mutated over that stretch from decisive to divisive; even an FA Cup would not quiet his most vociferous critics, but it might at least placate enough fans to keep Wenger at the helm until he is inevitably 'asked upstairs'.

Michael Laudrup meanwhile has no pressure to compete for the Premier League title -- rather to consolidate last season's mid-table showing, a challenge which he has so far met with aplomb. The Swans compete in the other domestic knock-out tournament later this week, travelling to Chelsea for the first leg of the Capital One Cup semifinals. The Dane has spoken about his desire to win as much as possible, and both domestic cup trophies are within the reach of a team like Swansea, even if the road to winning them means going through sides like Chelsea and Arsenal.

With a small squad, Laudrup is likely to field at least an 80% strength side, through necessity if nothing else. With success in the Capital One Cup more tangible, he might want to save his very best for Wednesday's fixture instead, although the promised reinforcements due this month will provide relief for tired legs later on.

Full-strength Arsenal have already been embarrassed by Bradford this season; comparatively speaking, there would be honour in losing to a side like the Swans, with all due respect to Bradford. Having already experienced the worst public humiliation following that defeat, not only will Wenger be unafraid to risk another full-strength side, but his players should also have learned that whatever happens against Swansea, it won't be as bad as that Bradford loss. Arsenal ought to play without fear then, which could make things tricky for the Swans, who have so far managed to meet Arsenal when the Gunners have been at low ebb.

Both these sides are characterised by inconsistency; will we get to see the fluid and frightening Swans from the comprehensive West Brom win versus the Arsenal of Bradford? Or the Arsenal who put seven goals on Reading and Newcastle and five on Spurs versus the Swans who needed a last-minute equalizer to draw against Aston Villa?

Getting the team sheet right is only half the battle; having the players turn on the style is something that not even the managers seem to have control over sometimes. If both sides decide to play, this could be a fantastic game. If only one side shows up, a quick exit is on the cards for the other.