Sloppy Swans narrowly avoid upset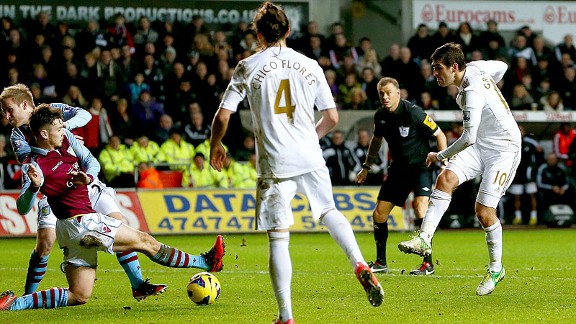 Jan Kruger/Getty ImagesDanny Graham's last minute equalizer helped Swansea grab a point at home versus upset-minded Aston Villa.
The Swans got a point with which to ring in the New Year, but not a win, and only narrowly avoided losing to the Premier League's Christmas period whipping boys.

- Match report: Swansea 2-2 Aston Villa

Swansea started brilliantly, creating four clear chances, hitting the woodwork twice and scoring their first goal of the afternoon. However, 80 or so minutes later, the Swans found themselves chasing an equalizer to salvage anything from the game. What went wrong?

Perhaps Swansea started a little too well; Villa themselves began the game somewhat more optimistically than they would end it, pushing up the field with a high defensive line, as is Paul Lambert's modus operandi whenever his teams play Swansea. However, the Swans attack tore through the high Villa line, and forced Lambert's hand.

Wayne Routledge showed a touch of class to create one scoring opportunity for himself before opening the scoring with another. Michu hit both posts and Danny Graham -- getting a rare consecutive start after his goal-scoring performance versus Fulham -- saw a shot pass inches wide. The result of all this early pressure was that Villa dropped deeper and gave up on playing very much football. The Swans attack quickly became its own worst enemy; confronted with a one-touch-passing attack-minded team, Villa got eight men behind the ball, limiting the Swans' space to thread passes and slowing play down to a crawl.

The Swans' game works far better when played at pace and with space, which is what makes Swansea such a good counter-attacking side. Vulnerable teams will not attack the Swans with much conviction, least of all at the Liberty, preferring to err on the side of caution and instead put up defensive barricades. This is one of the reasons the Swans often win surprise points against top teams and throw points away versus weaker sides. Villa's congestion on New Year's Day compressed the action into tight spaces, and although Swansea still managed to penetrate and create chances, the final product just wouldn't come.

The best sides find ways to coax even weak opposition out of their defensive bunkers, forcing a lesser opponent to play on their terms; wide-open and easily picked off. It is something Manchester United, for example, have excelled at for years and a trick this Swansea side will hopefully learn. In the meantime, it might be nice to see more players run at their man. It is harder to take advantage of an opponent's propensity for fouling when the game plan is to pass round them instead of running by them.

Lambert's defensive stance left his side with just one attacking option; thumping the ball towards the unmovable Christian Benteke and the wily Andreas Weimann in the hope that one, or both of them, would get on the end of it and make something happen. Of course, Weimann did; scoring a goal against the run of play and later earning the Villa penalty which gave Benteke his goal. It is ironic that in games such as these, it is the defensively "weaker" side that ultimately enjoys the most attacking space. When Villa's clearances reached their target, their forwards had all kinds of room and perhaps just two or three Swansea players to worry about. Fortunately, those players include the likes of Chico Flores and Ash Williams, who mostly contained the danger.

Villa out-fouled the Swans 18 to seven; clearly the result of the frustration felt from a 70/30 split in possession. For this reason, Villa's point-producing performance is less the work of Lambert the master tactician and more the product of brash young players with not enough discipline who got lucky. Still, a point in the standings and the obvious quality of their forwards should give hope to Villa and Lambert.

Meanwhile, the Swans will kick themselves for having believed the game would be easy-going based on the first 15 minutes; after the initial flurry, Swansea coasted with a 1-0 lead until Villa's equalizer right before half-time, and were anxious thereafter. The Swans shouldn't have settled for anything less than a two goal lead before daring to take their foot off the gas, especially against a side this porous.

Nevertheless, Graham's dramatic equalizer will give the team heart, and not help Michael Laudrup's sell-him-or-keep-him conundrum one bit.

Final Thoughts :

Positives : First 15 minutes. Pablo Hernandez looking sharp again. Graham back among the goals.

Negatives : Not hammering a team that even seemed to be expecting a hammering themselves. Swans too casual with a slim lead.