Swans must be wary of wounded Villa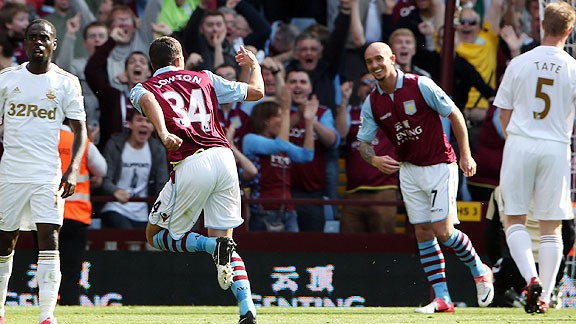 Ross Kinnaird/Getty ImagesSwansea lost 2-0 at Villa Park in September, when Matthew Lowton scored for the hosts
Aston Villa have conceded 15 goals in just their last three matches while scoring none. It all started with an 8-0 humiliation at the hands of Chelsea, a result expected to be brushed off as an anomaly, with Villa back to business the next game.

However, that didn't happen. With two more heavy defeats since, the eyes of the football world are watching to see just how bad things are going to get for Paul Lambert's youngsters - and that could make their New Year's Day fixture a trap game for the Swans.

All bad runs have to come to an end. While Villa's has only been three games long, the magnitude of their defeats has made it seem much worse. With three heavy routs on the bounce, there is increasing pressure - not on Villa, for whom expectations are at a minimum, but on their opponents. Nobody wants to be the team that ends Villa's drastic run; no team wants to suffer the shame of being unable to beat up on this side after Chelsea, Spurs and Wigan have shown how easy it is.

Of course, that is quite unfair on Villa; this is a side that beat Liverpool at Anfield not so long ago, held Arsenal to a home draw and even beat reigning Premier League champions Manchester City 4-2 at the Etihad, albeit in the Capital One Cup. What's more, this Villa side has already beaten the Swans once this season, 2-0 at Villa Park Sept. 15.

And perhaps most significantly for the Swans, Aston Villa are Paul Lambert's team - the man who twice beat the Swans with his Norwich side last season, becoming one of only two others to accomplish that feat (along with Everton's David Moyes and Manchester United's Sir Alex Ferguson).

The Swans must be careful, then - every team wants to start the new year with a strong run of results, and probably none more so than Villa. In the Swans favour is their home advantage (provided the players don't get too carried away with New Year's Eve celebrations Monday night), though the return of top scorer Michu seems unlikely. A good thing then that the side proved they can win without him if they have to in the 2-1 victory at Fulham last Saturday.

The Fulham match was also notable for striker Danny Graham, crowning his first appearance in many weeks with a goal. Meanwhile, the January transfer window is set to swing open invitingly with Norwich and West Ham rumoured to be interested in the Geordie. Graham's solid performance might therefore have presented Laudrup with a dilemma; whether to sell the striker, who has clearly not been part of the plan so far, or hold onto him in the hope he can maintain his rediscovered form.

In any case, a similar performance from Graham against Villa should help the Swans to emerge victorious, start the new year with a win and put the spectre of bogey manager Lambert behind them. And while it is conceivable that the Swans could add to Villa's misery with a multi-goal rout of their own, the longer Villa's dire streak continues the closer it gets to ending. Graham and the rest of the Swans will be hoping it doesn't end yet.