Frustration for Swans on Boxing Day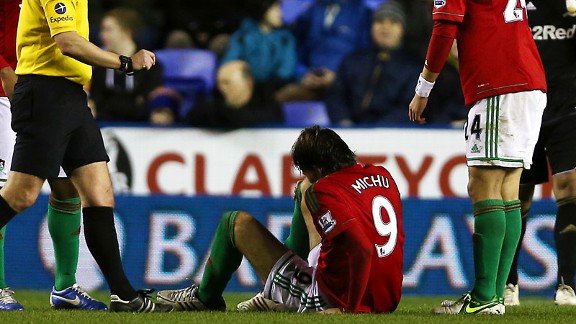 Andrew Cowie/AFP/Getty ImagesMichu and Swansea were unable to get off the mat and find the back of the net against Reading on Boxing Day.
There wasn't much Christmas spirit on show at the Madjeski on Boxing Day afternoon as a chippy game ended in a no score draw. However, one man for whom the Swans might feel some goodwill towards is referee Mike Jones.

- Match report: Reading 0-0 Swansea

Easily the biggest call of the game was Jones's spot of Adam Le Fondre's handball to deny Reading a goal which would have been both unfair and completely against the grain of play. Incidents like that are the hardest to spot, and so many aren't spotted (remember Marouane Fellaini's handballed assist versus Everton?), that it becomes cause to celebrate when one actually is, unless you're Le Fondre, who had to suffer the ignominy of being caught cheating.

Jones's spot was a top class piece of officiating which went some way towards making amends for an earlier whistle for a phantom foul apparently committed by Michu which spoiled a clear goalscoring chance for the Swans.

Jones seemed to believe Michu had fouled Reading centre back Adrian Mariappa. The truth of it is that Mariappa couldn't cope with Michu's skill, the Spaniard spinning the defender round like a dreidel on a turntable with just three deft touches. Factor in the glossy playing surface and it was easy to see why Mariappa lost his footing; less easy to understand why his unaided fall and Michu's brilliance ought to have been seen as anything but.

Michu subsequently put his shot wide anyway, but the whistle had blown. With the scoring form the Spaniard is in at the moment, he might have put it the right side of the post instead had his concentration not been broken; Adam Federici in the Reading net was beaten either way, having already committed.

Regardless, Reading were given a chance to stay in a game that, aside from a final fifteen minutes of set-piece bullying, they were mostly spectators for. Michu himself had a chance to make the discussion academic but couldn't find the target after pouncing on a misplayed ball from Reading full back Chris Gunter. It was a fantastic piece of opportunism from Swansea's most dangerous player, and only served to highlight his importance to the team; Laudrup's other central attacking options continually fail to convince.

As expected, there was rotation among the forwards against Reading. Luke Moore was named starting striker ahead of Danny Graham, who probably couldn't get arrested in Swansea at the moment, with Michu slotted in behind. However, as the game wore on, Moore was shunted wide left, with winger Wayne Routledge coming inside for Michu, who in turn was pushed up front as striker yet again. Later, Itay Shechter was introduced from the bench (again ahead of Graham), but neither man did very much to suggest the Swans wouldn't be in a little bit of trouble if the injury Michu picked up in the 81st minute turns out be remotely serious.

Moore, Shechter and Graham, in the few appearances he has made, have -- to greater or lesser extents -- had the look of spare parts about them, drifting in and out of the fluid communion enjoyed by the other ten players to generally little effect. It seems crystal clear that finding a striker who can fit into Laudrup's system needs to be the first order of business come the January window (as well as finding a new post-code for Graham).

Rumours abound of interest in Celta Vigo's youngster Iago Aspas, but eight million pounds -- Aspas's release clause -- for six La Liga goals is a lot to ask from an alleged ten million pound war chest that has to stretch to at least one more midfielder and possibly another defender, too.

Time will tell if Aspas is destined to become a Swan but Laudrup's eye has so far equipped the Swans with half a starting eleven of top drawer talent for pick 'n mix prices. If Laudrup deems the player worthy of such a significant investment, chances are that Aspas won't disappoint. Although disappointment is fast becoming an unfamiliar flavour for the Swans under Laudrup's watch, it is one they'd still rather forget entirely, especially after Boxing Day's frustrating draw.

Final Thoughts:

Positives: Didn't concede from a set piece! Swans centre-backs still enormous -- Williams taking studs to the face, Chico taking a volley head-on to save a certain goal. Jones's eagle-eyed hand-ball call.

Negatives: No goals against the bottom club, although there were chances at least.