Graham could be showcased at Reading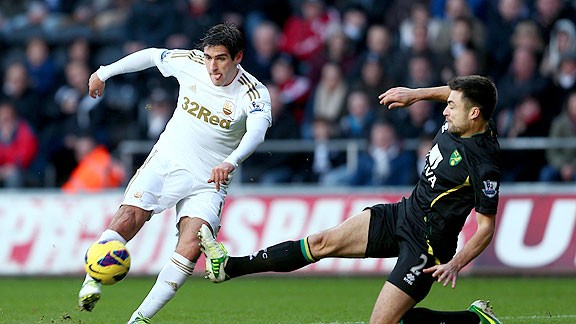 Paul Gilham/Getty ImagesDanny Graham, left, hasn't been a first-team regular for Swansea since their Oct. 6 home draw against Reading
If you can't always rely on Christmas Day to bring you exactly what you wanted, you can usually count on Boxing Day to provide upsets, big scores and goals galore. It is the one day on the Premier League calendar when the form book is most likely to go out the window, with the big clubs understandably at most risk of being embarrassed. Neither Swansea nor Reading can be considered big clubs, but Reading are embroiled in what has so far been a season-long relegation battle, and will attempt to stop the Swans from bringing too much of the Christmas cheer they took from Manchester United to the Madejski Stadium in Wednesday's fixture.

The last time Swansea visited Reading was when both were in the Championship in 2010, when the Swans won, 1-0. The clubs have somewhat more relevant recent history; aside from the 2010-11 Championship playoff final - which the Swans also won (4-2) - the sides met earlier this season in the Premier League Oct. 6.

The result on the day, a 2-2 draw, does not convey how one-sided the game was. Reading built up a baffling 2-0 lead before the interval completely against the grain of play, and a superb showing from the Swans in the second half salvaged a point.

One fact that doesn't show up on that scoresheet is that it was to be the last start for Swans striker Danny Graham for a long time. Graham had been a first-team regular until that match, but was substituted at half-time and didn't get another start until the recent 4-3 home defeat to Norwich Dec. 8.

Although Graham's one-time status as the Swans record signing (3.5 million pounds from Watford) was eclipsed last summer by the purchases of both Ki Sung-Yueng (£5.5 million from Celtic) and Pablo (£5.55 million from Valencia), he still remains the third most expensive player in Swansea City history.

Having not seen a single start in over two months, and having been injured for only a couple of weeks during that span, Graham seems likely to be leaving Swansea come January. It is interesting that his one sole start in recent weeks was against a side - Norwich - rumoured to be interested in signing him. The Swans are about to play their second of four matches in a 10-game span, and so will have to rotate the squad if they are to take points in games which manager Michael Laudrup has labelled "more important" than the United match.

It seems reasonable then to assume Graham might get another chance, and equally as reasonable to assume such a chance would be considered advertising.

Reading have a striker issue of their own, with Russian Pavel Pogrebnyak allegedly meeting with the team's owners to discuss his future. Could Graham be a fit for the Royals? The Geordie is cut from similar cloth to former Reading striker Shane Long; he would almost certainly suit Brian McDermott's system.

It seems likely that Graham will get at least one start for the Swans during this stretch, and also likely he's as good as transfer listed at this point. Against United, Laudrup played both of Graham's striker rivals Itay Shecter and Luke Moore from the bench ahead of Graham, and let the Geordie sit - despite his former record-signing credentials, despite his momentum-generating work rate and despite the 12 league goals he scored for the Swans last season.

So it would make some sense to parade Graham in front of a side that might have some interest in signing him, although I'm not sure his potential new employers would be too grateful if he scored the winner and gave them another little push back towards the Championship. Food for thought, although this is all merely speculation, of course.

As for the game itself. . . . Reading will fight at home, reassured by their earlier draw at the Liberty, with a six-point weight to counter to escape the relegation zone. Swansea will (hopefully) show up and keep their momentum going, with Ash Williams and Chico Flores - arguably the best centre back pairing in the Premier League over the past two weeks - determined to atone for the two freak goals the side shipped in the last Reading fixture.

Prediciton : With or without Graham, Swans win.