David Villa to Swansea City? Is It Possible?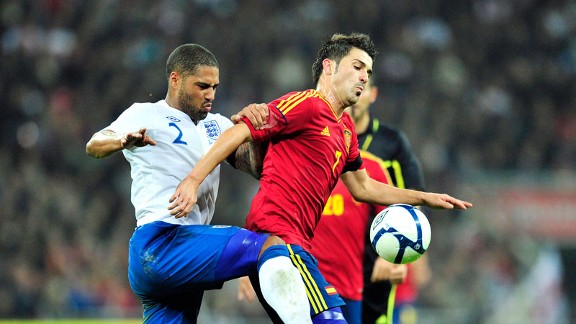 GLYN KIRK/AFP/Getty ImagesSpain's David Villa, right, tries to fend off England's Glen Johnson. Could Villa actually be taking his talents from Barcelona to Wales?
What started as a seemingly far-fetched rumour before apparently progressing past "plausible" en route to "probable" is now officially the odds-on most likely thing to happen, and nobody in South Wales can believe it - Barcelona's David Villa (potentially) playing for Swansea City.

The gulf which is supposed to exist between small clubs like Swansea and world-famous (not to mention World Cup-winning) football players like David Villa is still there, making a case that this whole idea is still far-fetched and was only allowed to escalate because a steady line of daring punters decided the bet was worth, well, a punt.

But the presence of Michael Laudrup (if not the man himself) suggests that there could well be some fire to make sense of so much smoke. After a stellar playing career which saw Laudrup play arguably his best years in a Barcelona shirt, it stands to reason that the Dane still has a lot of friends in that part of the football world.

Laudrup's Swans need a striker; Michu has been forced to play out of position (he is not a striker, despite what else you might read - he is an attacking midfielder), while former record signing Danny Graham has been marginalised and both Luke Moore and loan signing Itay Shechter seem fit only for cameo appearances of the "late sub" variety.

Villa, meanwhile, apparently does not fit into Barcelona's plans and needs some serious game time to rehabilitate from a nasty broken leg sustained before last season. He'd be virtually guaranteed to play every possible minute if he did come to Swansea. He'd also be getting a taste of the Premier League and have the opportunity to put himself in the window for the Spanish World Cup squad. Villa will be 33 when Brazil 2014 rolls around, but he'll fancy a shot at a second World Cup victory; he is, after all, Spain's all-time leading goa-lscorer, and older forwards can still be effective at international level (see: Klose, Miroslav).

Should Laudrup be able to pull off the biggest coup in Swansea City history, Villa will find himself in good company; Michu is a fellow Asturian, although Villa started out with Sporting Gijon, the arch-rivals of Michu's beloved Real Oviedo. Villa and Swansea's Pablo spent some time together at Valencia, and fellow Spaniards Angel Rangel and Chico are already in the squad.

There is no doubt the addition of David Villa (certainly on a loan deal with his wages heavily subsidised, if not completely) would elevate Swansea's already formidable Spanish cadre to a new level. Whether the Swans can secure his signature with many of the usual big six teams also in the mix remains to be seen. However, it seems more likely the bigger sides would want to buy Villa outright, and at 31 he would come with little resale value but still command a significant transfer fee given his standing.

Brendan Rodgers at Liverpool seems to favour building with youth; with a deal for Daniel Sturridge reportedly as good as done and wary ownership holding tightening purse strings, Villa to Liverpool seems unlikely. Manchester's City and United are set up front (though since when did that matter?), and Chelsea seem to be committed to getting their money's worth out of Fernando Torres whilst continuing to pine for the possibly-also-available-on-loan Didier Drogba. That leaves Arsenal and Tottenham as the big six sides most likely to nix Laudrup's ambitions, but a loan move to the Swans might still make more sense for the player.

Villa might not want to leave Barcelona permanently, and could see a six-month loan stint in the Premier League as the ideal opportunity to prove his fitness and worth to the Barca squad. In Swansea, Villa would be joining a side packed with compatriots that plays a sympathetic style to the Barcelona system and in Laudrup, Villa would be working under a Barcelona legend and one of the game's all-time greats.

It seems like a win-win situation and the odds agree; tumbling from 40-1 this morning to 8-11 at the time of writing. Could Michael Laudrup be about to give every Swans fan the mother of all Christmas presents? It would have to rank as one of the most incredible transfer deals of all time if it does happen, and be almost as surreal as that time Brazilian legend Socrates played for Garforth Town. But then that did actually happen, so . . . .