A century of Swansea City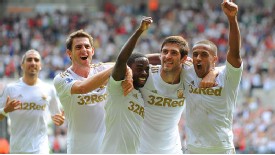 PA PhotosSwansea City sport their centenary kit
A hundred years is a long old time in anyone's book, and the 7th September 2012 marked the 100th birthday of Swansea City Football Club.

The Swans have already been sporting their centenary kits this season (Real-esque all-white with gold trim at home, Welsh flag tri-colour away), featuring a special club crest, whilst various corners of the internet have been recognising the milestone in their own way.

The Swans have come a long way since their first competitive game, a 1-1 draw with Cardiff City in 1912 in the second division of what was then the Southern League.

It is a testament to just how far the team have come that Swansea City are able to celebrate their century as a Premier League team and on their way to cementing themselves as a regular fixture in the domestic top flight, with one of the most revered footballers of all time at their helm.

Competitive, yet still financially secure and 20% supporter owned, the Swans are perhaps the poster boy for the way a modern football club ought to be run.

1912 is a fine vintage, so here are the 12 most important milestones from the Swans history to date.

1912 Formation of Swansea City FC
Need I say more?

1920 Entry to Football League as founder members of Division 3
Following the dissolution of the second division of the Southern League and a subsequent four year stint in the first division of the Southern League, Swansea City were invited to become founder members of Division Three (which became Division Three (South) the following year) of the Football League instead. If you ever wondered why a Welsh club was involved with the 'English' league, now you know - they were invited based on geography.

1966 Swansea's first foray proper into Europe
Having been beaten in the European Cup Winners' Cup preliminary round in 1961-62, this time the Swans made it to the first round, where they lost 5-1 on aggregate to Slavia Sofia.

1975 Swansea City 'achieve' their lowest league finish to date, 22nd in Division Four
Despite finishing the season with a reasonable 15 wins from 46 games which should have been enough for lower mid-table anonymity, the Swans couldn't get a draw from anywhere and lost 25 matches. Sorely missing those precious single pointers, Swansea finished the season two places from dead last and had to apply (successfully) for re-election to the league.

1978 John Toshack replaces Harry Griffiths as manager and begins Swansea's record four year climb from bottom to top
Only Wimbledon have matched Swansea's feat of bottom to top in four straight seasons. Toshack inherited a good side which Griffiths had put together, and managed to build on his predecessor's good work in record-setting fashion.

1982 Swansea achieve their highest ever league finish, 6th in Division One
Analogous to finishing 6th in today's Premier League, this was a remarkable feat for a Swansea side who had already defied all expectations with their four-season rise to the top. The Swans continued to defy expectations in their first ever top flight season, doling out memorable thrashings to several of Britain's then-best.

1983 Swans begin slippery four-year slide back down to the bottom tier
The next season saw Swansea relegated from Division One and, although nobody knew it then, about to embark on a slide back to the bottom every bit as rapid as the one which took them to the top.

2002 The Mel Nurse Consortium buys club from Tony Petty
After businessman Tony Petty bought the club and its debts for £1 and began angering fans by sacking players and coaches and threatening the clubs' very existence, a consortium headed by former player Mel Nurse and backed by the Swansea City Supporters Trust successfully ousted Petty and gained control of the club. Unique in British football, the Swans became 20% supporter owned.

2003 Swansea City almost leave the Football League
Facing relegation from the Football League, Swansea City had to beat Hull to stay up. A hat trick from James Thomas saw the Swans win the game 4-2 and survive (at the expense of Exeter). Current players Leon Britton and Alan Tate were in the side that day.

2005 Swans relocate from historic Vetch Field to new Liberty Stadium
The Swans leave the only home they'd ever known and move across town to state-of-the-art, all-seater, 20,750 capacity Liberty Stadium.

2011 Swansea City win promotion to the Premier League, becoming the first Welsh club to do so in the process
Brendan Rodgers put the pieces of Roberto Martinez' attack and Paulo Sousa's defence together to create a team worthy of promotion, following a dramatic playoffs and tense 4-2 final victory over Reading. A supposed £90 million jackpot for a team that, less than a decade previous, had faced extinction.

2012 Swansea City FC makes it to 100 years old, appoints Michael Laudrup as manager
Narrowly avoiding oblivion at 90, Swansea City rise to new heights. Now a Premier League team, the Swans appoint Michael Laudrup as manager. Laudrup, one of the greatest to ever play the game, instantly becomes the biggest name ever to be associated with the side. Next... Europe?