Four thoughts after the League Cup quarter-final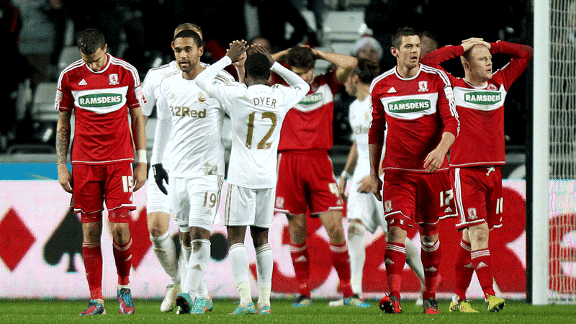 PA PhotosSwansea celebrate after Seb Hines' own goal, which proved to be their match-winner against Middlesbrough
An unimpressive performance from the Swans was nevertheless enough to see off Championship side Middlesbrough with a 1-0 victory in Wednesday's League Cup quarter-final.

- Swans edge past Boro into semis

The win takes Swansea further into unfamiliar territory; only their third semi-final in team history, versus one of Aston Villa, Chelsea, Leeds United or Wenger-shaming Bradford. With the Swans into the final four, here are four people who posed questions on Wednesday night :

Lee Probert
The quality of the football on display wasn't the only element of Wednesday's game that could have been a bit better; the officiating was almost as scrappy as the match itself.

Two corner kicks were incorrectly given as goal kicks against the Swans, along with at least one throw-in. Ki Sung-Yueng had a very good penalty shout turned down on the grounds his opponent had 'played the ball', in so much as accidentally sitting on the ball after fouling an opponent counts as playing it. And Boro defender Andre Bikey could have easily seen red for a clumsy last man tackle on Luke Moore; Probert choosing to err on the side of caution and wave it off instead.

Had the Swans gone on to lose this match, several of these incidents - the Ki penalty appeal in particular - would have come under much closer scrutiny. All things considered, it almost seemed just for the Swans to win.

Danny Graham
The latest episode in the Danny Graham saga saw the striker once again forced to watch from the sidelines, despite being named on the subs bench. Michael Laudrup had started the match with on-loan Israeli striker Itay Shechter up front.

Shechter couldn't get a foothold in the game and so was withdrawn, with Luke Moore chosen as his replacement ahead of Graham - despite Graham's history as a one-time Middlesbrough player, which might have provided a little extra spark to the Geordie's game.

Matches like these - against lower-league opposition - provide a perfect opportunity for a mis-firing striker to re-discover his scoring touch. Graham's non-participation is the latest in a lengthening line of evidence which suggests the Swans will try to move the striker in the January window.

Leon Britton
I outlined Leon Britton's importance to the Swans in my last blog. To see the midfielder started against lower-league opposition so soon after his return from injury simply underlines the fact.

I had wondered whether Laudrup would use the opportunity to try a different player in Britton's role; he did not, which means at least two things - firstly, that Britton must have been 100% fit, or close enough to it, which is good news, and secondly, that Laudrup does not see a viable cover option for Britton in his squad.

As things stand, the only time Britton isn't playing is when he's injured or when he's substituted late in games, typically in favour of a second striker whilst chasing an equalizer. Adding some cover with a player who can do what Britton does would seem to be a priority heading into January. Finding one is another matter entirely.

Dwight Tiendalli
Laudrup did at least allow Angel Rangel a game off, starting new full back Dwight Tiendalli in his stead. Tiendalli has seen little game time since joining the Swans, so the jury is still very much out. On the evidence of his Wednesday night performance, that might still be the case.

The Dutchman seems capable of strong play - his aerial ability has been an unexpected bonus - but equally as capable of losing the plot. At one point he simply stopped playing, assuming a free kick ought to have been called for the slightest of contact, and had to suffer the ignominy of watching his opponent walk off with the ball.

Tiendalli is a player with Champions League experience. The Swans signed him a full three weeks into the season at which point he was still a free agent. Questions were asked; how is a player with his experience still without a club? We might be starting to see the answer, although he has shown enough ability as Dr Jekyll to suggest he could be turned into a solid full back if Laudrup can coach out the Mr Hyde.