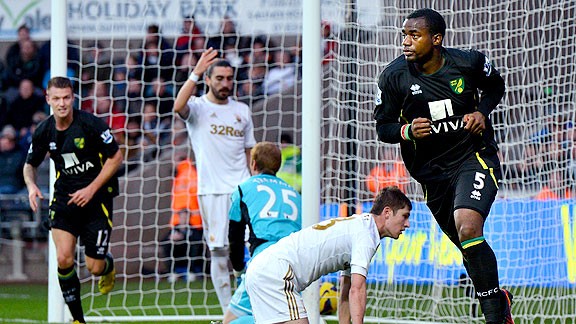 Ben Stansall/AFP/Getty ImagesSwansea's inability to defend at times on Saturday allowed the likes of Norwich City's Sebastien Bassong to find the back of the net.
A dire first half performance from the Swans on Saturday afternoon gave Norwich more than enough opportunity to take control of the game as Chris Hughton's side didn't need asking twice. However, the Swans might have made it to the interval with only Steven Whittaker's excellent goal to rue were it not for a frankly embarrassing inability to defend set pieces.

- Swansea make Bassong racism arrest

The Canaries added a second and a third in quick succession towards the close of the first half. Sebastian Bassong's header should never have beaten Gerhard Tremmel at his near post; the German 'keeper, who has otherwise been superb for Swansea in relief of the injured Michael Vorm, has to take responsibility for that one, but not the third.

Grant Holt's ability and physical presence are not unknown commodities. Norwich played much the same formation as Swansea, with Holt as their lone striker, and yet he was allowed to remain almost completely unmarked in the penalty area on a set-piece. Man marking might be an increasingly arcane art in these days of trendy zonal schemes, but nothing in football is simpler than having your man and sticking to him.

Zonal defending in open play is a fine thing, and demonstrably more effective and versatile than man-marking when executed properly, but on set-pieces, I cannot understand the demotion of man-marking in favour of clearly inferior schemes. This is not to suggest that Michael Laudrup isn't coaching his defence to man-mark, or at least do something other than roll over and cough up soft goals. It could just be that the players aren't following their instructions. However, Brendan Rodgers' suspect zonal marking schemes on set pieces cost the Swans several goals last year. This part of the Swans' game shouldn't still be a weakness.

The Swans have two physical centre halves; Ash Williams and Chico. One of them -- preferably Chico, the taller of the two -- ought to have been all over Holt like a lampshade on every set-piece. Holt is there to score goals. He is brave and big. He is obviously the main threat from Norwich in dead ball situations. And in scoring his goal, he couldn't have been more alone if he was Darren Bent when Paul Lambert announces the weekly Villa line-up.

Ironically, in open play, Chico was a constant source of aggravation for Holt. If only he could have maintained that level of personal attention on that Norwich free kick, Swans fans might have been spared having to watch a fat man dance.

Swansea's awful defending of set pieces was especially irritating because the game was otherwise there for the taking. Norwich played a good game in the first half, pressed the Swans players relentlessly and created chances. However, that was against a Swans side that looked sedated throughout the first 45 minutes.

Turning over a three goal deficit is a tough ask for any club. I'd love to know what Laudrup said to his players in the interval because when the Swans came back out Norwich simply couldn't live with them. The Canaries second half game plan seemed to be to predicated on constant fouling and putting ten shirts behind the ball; regardless, Swansea were incisive, scoring three goals of their own -- two from red-hot Michu -- and threatening to score more.

Danny Graham, returning to the side after a long lay-off, came close to breaking his slump on more than one occasion, and Itay Shechter, who replaced Graham in the 69th minute, saw his goal controversially ruled out for the softest of fouls by Michu on Norwich 'keeper Mark Bunn.

Despite pegging Norwich back into their own third for most of the second half and hammering on the door for an equalizer, it fell to Robert Snodgrass to seal Norwich's first away win of the season with a goal... from a set-piece. At least it was scored directly from a free-kick and was not another gift courtesy of lousy defending.

Norwich are fast becoming a bogey side for the Swans, who have now lost all three Premier League matches between the sides, but not only can Laudrup's men learn some important lessons about defending set-pieces from this defeat, they can also take heart; those second half Swans were formidable, Michu is made of gold, Nathan Dyer deserves a medal for effort and this side needs Leon Britton like a Christmas tree needs an angel.

Final thoughts :

Positives: Superb second half effort -- evidence that this Swans side has the tenacity to fight back against long odds, and (almost) succeed. Also, Michu, simply unstoppable, once again.

Negatives : Set piece defending.