Trigger-happy Michu is a master scorer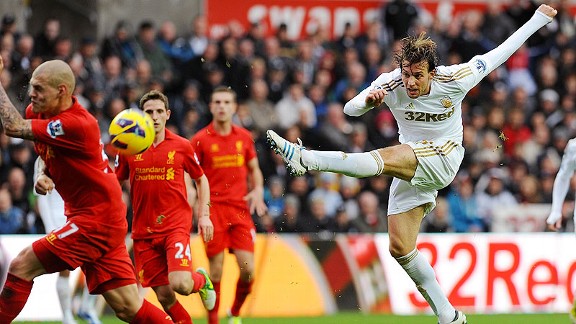 John Powell/Liverpool FC/Getty ImagesSwansea's Michu has proven his fantasy value this season
Michael Laudrup has carefully reshaped the Swans since his summer appointment, bringing in a new slew of foreign talent. Although all Laudrup's first-team signings have made a positive impact, perhaps none have been better than attacking midfielder Michu. The rangy Spaniard's brace against Arsenal last weekend has once again put him in the Premier League spotlight. So what's all the fuss about?

Who?
Miguel Perez Cuesta, aka Michu, is the Swans No. 9 and ever-present on the team-sheet; he's started every game this season. He's the lanky attacker with long hair and long sleeves, and he'll be the one firing in long-range goals,making late runs into the box and managing to always go unmarked

- Fantasy Picks: Michu shows his value

Although he has also played striker this season (a strategy which has only just started to pay dividends), he appears to be more comfortable playing in the hole. He is also identifiable by his unique goal celebration, which probably infuriates opposing fans as much as it delights Swans fans, and is a rare football romantic - Michu once turned down a big money move to Sporting Gijon because they are the arch-rivals of his boyhood club (Real Oviedo), who he recently helped save from oblivion with a financial investment.

Pleased to Michu
It has been impossible to ignore Michu's scoring touch; it's not often a small side such as Swansea can boast a player among the Premier League's top scorers. However, the nature of Michu's goals is where the real story lies. Here is a player who can really score all types of goals. Speculative long-range strikes, one-on-one breakaways, diving headers; nothing seems to be beyond the Spanish goal machine. And he's technically not even a striker.

Listed at 6-foot-1, Michu carries himself as if he is three inches taller and is a braver, better aerial threat than any of the Swans nominal strikers. As with all Swansea players, Michu has defensive duties in the team system. While not the best tackler, he will backcheck and give 90 minutes of effort - his relentless closing down of opposing centre backs and goalkeepers has produced more than a couple of goals for Swansea, even if it is often Michu's teammates who end up on the scoresheet instead.

Not so pleased to Michu
It is harsh to criticise an attacking player for not being particularly strong in the tackle, and it's even harder to criticise a successful player still enjoying the honeymoon period at a new club. Some might argue that there have been passages of play in certain games where Michu seemed to disappear (this might have happened once, for about five minutes).

However, his scoring record and manifest attacking presence the rest of the time more than balance things out.

The Stats
Michu's scoring record is sufficiently impressive as to warrant further exploration. The following charts demonstrate Michu's goal threat compared to the average of the other Swansea attackers. The attacking players factoring into that average are Nathan Dyer, Wayne Routledge, Pablo, Itay Shechter, Luke Moore and Danny Graham.




This amply displays why Michu is Swansea's top scorer. Compared to his fellow attackers, Michu takes almost three times as many shots, and scores more than five times more often. Not only is Michu more trigger-happy, his shots appear to be more deadly. However, this chart was calculated using the raw season-so-far totals for goals and shots for each player. To get a more balanced picture, it would be fairer to work out the goals and shots per 90 minutes, to compensate for players such as Moore and Shechter, who have only played a fraction of Michu's minutes.




With the per-match consideration, the difference between Michu and his teammates is less drastic, but still significant. Michu takes almost one shot more on average per 90 minutes than his teammates (2.79-2), but scores almost three times more often (0.69 to 0.24 goals per game). Each of Michu's shots are worth a quarter of a goal each (0.25), where the average "shot worth" is 0.12, or just over one-tenth of a goal. So for every four shots, Michu scores, compared with the average figure of one goal in ten shots.

I explored Gylfi Sigurdsson's figures in a similar way last season, and found much the same message; if you want to score more, shoot more (assuming you have a half-decent shot - and there's the real X-factor). It's a simple game at heart, and Michu seems to have more than mastered one aspect in particular.