Depleted Swans still as deadly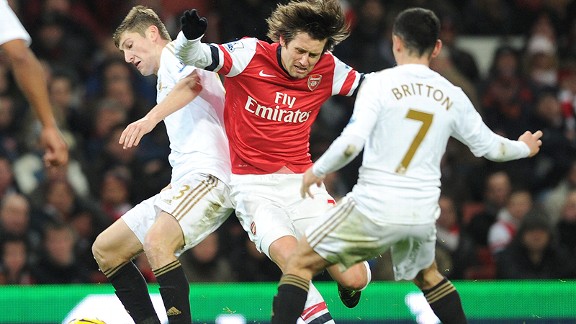 Stuart MacFarlane/Getty ImagesTomas Rosicky and Arsenal were done in by a superbly organized Swansea defence and a magnificent Michu.
The performance might not have been as picture-perfect as last Wednesday's first half against West Brom, but the result was certainly more impressive as the Swans earned their first victory at the Emirates. The 2-0 result was the product of 90 minutes of relentless effort which produced two late strikes from the magnificent Michu.

- Arsenal falls to Swansea
- Blog: All eyes on Wenger as Arsenal slump

Michu's goals, each coming on a one-on-one breakaway against Wojciech Szczesny, were the epitome of cool, the Swans' top scorer showing ice-cold composure to silence the Gunners at the death. Perhaps not as obvious but equally gratifying was the fact Swansea City achieved this result minus two key players.

Pablo, the star of Wednesday's showcase victory, and fellow winger Wayne Routledge, who scored twice in that game, were ruled out through injury. Their absence had not only prevented Michael Laudrup from running with the same potent line-up, but actually left the Swans bare on one flank. Swansea only carry three wingers in the squad, and with two ruled out, central midfielder Jonathan de Guzman was nominally started on the left flank. In practice, de Guzman played further inside, with the responsibility for attacking play down that flank left to full back Ben Davies.

Davies has enjoyed a noticeable upswing in confidence and form of late, and managed to more or less contain the threat of Theo Walcott while offering attacking width without missing too many steps. Davies's fellow defenders also enjoyed a strong game, none more so than Chico, who has become a significant presence in the Swans' backline. The former Genoa man's best moment was an inch perfect tackle on Arsenal forward Olivier Giroud, preventing the Frenchman from a clear-cut scoring chance. Although the incident enraged the Arsenal faithful, who felt a penalty should have been given, television replays vindicated referee Mark Clattenburg's brave decision, and allowed Chico's superb last ditch tackle to stand as the piece of brilliant defending it was, and not be penalised for the foul it wasn't.

The game also marked the Premier League debut of Dutch defender Dwight Tiendalli, who was brought in on a free transfer in the wake of Neil Taylor's early season injury to provide some more cover at full back. Tiendalli's introduction in place of de Guzman necessitated another tweak to the Swansea line-up; this time, right back Angel Rangel was shunted forward to play as a winger proper, with Nathan Dyer switched to the left flank. Tiendalli, who has similar attacking instincts to Rangel, almost made it a debut to remember with an excellent dribble and shot which Sczcesny did well to parry.

There were further changes, too; forward Itay Shechter was replaced with Luke Moore, who made his case for a starting berth with a perfect return pass to set-up Michu's first, while it was left to Nathan Dyer's unfailing industry to force the ball away from Carl Jenkinson minutes later and allow Michu to buy the Swans some insurance.

Overall, the game demonstrated that this Swansea side, although short on depth compared with some, clearly have enough to not only cope with multiple injuries, but to play players in unfamiliar positions and still get a result against a top side and away from home. There were half a dozen good reasons the Swans probably shouldn't have been able to win this game, but the character shown by every player on this side, and the total conviction with which those players appear to believe in their manager's system, means that no order is too tall.

Enduring three games in seven days, and producing not only a first class performance on Wednesday but also a first class result with a rotated squad on Saturday, has put the Swans in seventh place in the Premier League. Next week will provide a different test; if the Swans can show they are able to keep up this level against a smaller club - Norwich come to the Liberty on the 8th - then Michael Laudrup's outfit will have passed yet another test on the road to becoming a perennial Premier League side.

Final Thoughts :

Positives : Big result against a big side. The underrated backstopping of Gerhard Tremmel, who earned another clean sheet. Solid team defending. Magnificent Michu.

Negatives : Another scary first twenty minutes of the second half, but the fact is the Swans not only got through it, but went on to win.