Invention helps super Swans stun Baggies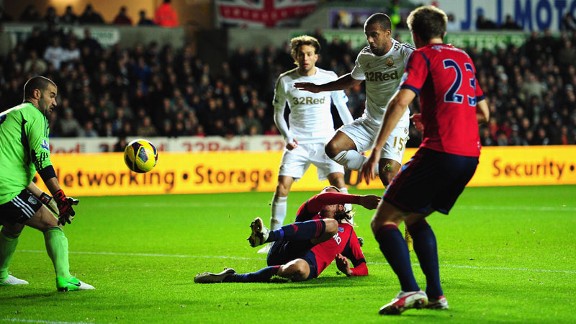 GettyImagesWayne Routledge scores his first and Swansea's second goal
Steve Clarke's West Bromwich Albion might have been the surprise of the season so far, but the Baggies were humbled by an excellent Swansea City side, thanks to a little bit of invention from Michael Laudrup.

- Stunning swans end Baggies run

There has been a small striker crisis at the Liberty in recent weeks. Former record signing and incumbent starting striker Danny Graham began the season slowly and has since found himself dropped from the first team and increasingly marginalised. Granted, Graham has been suffering illness recently, and might have featured in some capacity in the Swans' last two games had he been fit, but the Geordie has been benched for some weeks now, fit or otherwise.

Luke Moore has also been ill of late, though he did play a part in Wednesday night's match, coming on as a late sub. However, despite making the most of limited substitute appearances so far this season, Moore has apparently not done enough to warrant a regular starting berth either.

For a spell of recent games Laudrup had opted to shift attacking midfielder Michu from his comfort zone in the hole to the lone striker position up front. Michu struggled to shine - or to score - as the frontman and so was shifted back to his favoured position behind the striker, making way for loanee Itay Shechter to stake his claim instead. Shechter had looked useful but not especially dangerous when played, and before the match against West Brom, it seemed likely he would get another start and another chance to show his stuff. But Laudrup had other plans.

Taking full advantage of his versatile trio of wingers and perhaps tiring of having to determine which two of the three to start each game, Laudrup instead employed all three in the starting line-up. Nathan Dyer took the right flank, with Wayne Routledge and Pablo interchanging between the left flank and the hole. To accommodate the trio, Michu was again shunted forward as striker. To say the experiment was successful would be an understatement.

Michu, Dyer, Pablo and Routledge became the four horsemen of the soccerpocalypse, aided by decisive support play from full backs Angel Rangel and Ben Davies, as Swansea City played the best 44 minutes of football of any Swans side in recent memory. An absolute master class of passing, trickery, guile and creativity saw Michu finally score as striker and Wayne Routledge double his tally for the season.

The Swans attacking players, and particularly the forward quartet, continually made unexpected passes at unexpected times into unexpected areas from unexpected positions. This was no victory of well executed formulaic football; this was a victory of imagination, creativity and near-telepathic team play. Michael Laudrup's shadow looms large and long over the Liberty; his players are basking in it, apparently infused with an inherited measure of the Dane's celebrated brilliance.

Although West Bromwich Albion spoiled the party somewhat with a late first-half goal which saw the Swans ambition checked by 20 minutes of early second half nerves, the three points won against a strong opponent on Wednesday night were more than earned. If points were awarded for level of performance instead, the Swans would have made Michael Laudrup's stated target of 20 in a single night.

As it stands, the Swans have reached Laudrup's target; 20 points, or half of the 40 typically needed to avoid relegation, a full five games before the halfway point of the season. Presently in eighth place and evidentially improving in every game, the Swans might be closer to a Europa League place this season than a relegation dogfight. The evolution of Swansea City under Michael Laudrup has been nothing short of inspired, and with reinforcements to arrive in January, things might get even better yet.

Final thoughts:

Positives : Too many to mention, but Pablo was perhaps the best player on the park. Ben Davies just keeps getting better, too; his best performance to date by a long chalk.

Negatives: Shame about that goal; Swans' loss of composure at the start of the second half perhaps indicative of a side still learning the art of dominance. That's hardly a problem though.