Striker shopping for scoreless Swans?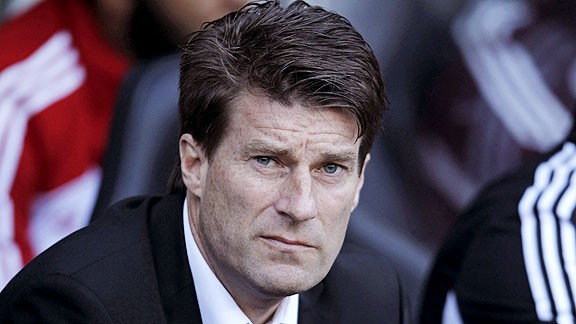 Ian Kington/AFP/Getty ImagesSunday's 0-0 draw versus Liverpool was proof that Michael Laudrup's Swansea side could use another striker.
After all the pre-match focus on Ash Williams's comments regarding Luis Suarez, the actual battle between the Swansea defender and the Liverpool forward on Sunday provided no controversy. Of greater significance to the Swans is that Williams's antagonism didn't spur Suarez on to the kind of multi-goal performance he's capable of (see: Norwich). Suarez came close to scoring, but couldn't, so in some ways it's fair to say Williams won, although the centre back did need goalkeeper Gerhard Tremmel's help on more than one occasion to retain any sort of bragging rights.

For Suarez's part, the Uruguayan was clearly on his best behaviour; a whole match without diving must be some sort of record. It's not like Suarez didn't have plenty of opportunity, either. At one point, Chico held onto the striker like a baby in a house fire, and although Chico's transgression was penalised with a free kick, Suarez had tried gamely to fight on. It was refreshing to see some old-fashioned honest integrity from the Liverpool man; if he married that kind of no-nonsense class with his abundant attacking threat in every game, he'd be among the Premier League's top three strikers.

So, no goals for Suarez, but also no goals for the Swans. Danny Graham might have had a chance to regain Michael Laudrup's favour on Sunday, particularly after starting striker Itay Shechter was substituted at the interval, but he missed the game with illness. The same circumstance kept fellow striker-in-waiting Luke Moore off the bench, which meant a nostalgic return for Leroy Lita -- nostalgic because it seems like Lita hasn't been in the side since Brendan Rodgers was last at the Liberty.

With the ineffective Shechter unable to penetrate the Liverpool defence, Laudrup was forced to push Michu back up front for the second half. The Spaniard is always dangerous but is far more effective playing deeper, as I've recently discussed, and went goal-less again, a frustrating trend when he is played as the lone striker. Little wonder then that the Swans struggled to create many meaningful chances. Winger Pablo seemed most likely to score, coming close with two near-identical shots and testing Pepe Reina with a decent free kick.

Whether Shechter's withdrawal was purely tactical (it allowed the defensively superior Ki Sung-Yueng to supplant attack-minded Jonathan de Guzman in the centre of the park), or the result of the Israeli international's first-half futility, is debatable. However, Laudrup's reliance on Michu as an (ineffective) emergency option up front, coupled with the Dane's reluctance to play Graham, continues to suggest that new striker shopping will be top of the to-do list come January.

Overall, the Swansea performance was sufficient to earn the draw; either side would have felt cheated had the other pinched a winner. Both teams enjoyed dominant stretches, Liverpool had the better chances, but the Swans can be proud. The Capital One Cup victory was qualified by the disparity between Liverpool's reserve-laden squad and the Swans' comparatively competitive side. On Sunday, the Swans proved they can match an emergent Liverpool, a side on a seven game unbeaten streak in the league (now eight) which features one of the league's deadliest strikers.

Rodgers might shudder to think what he'd do without Suarez. Laudrup might be thinking just what Swansea could do with him, or a player like him. Perhaps there's a Suarez-lite somewhere in Spain, without the diving and without the high wage expectations but with, say, two thirds of the talent, for a few million pounds. That's wishful thinking, but if someone had suggested you could buy over 0.5 Premier League goals-per-game for £2 million before this season, the rest of the league would have been too busy laughing to stop and sign Michu, which is perhaps what happened. There is only one position left for Swansea to get right. Once Laudrup finds his striker, this Swans side will be really dangerous.

Positives: Not losing to the ex at home. Solid performance. Eighth place. Clean sheet. Chico time.

Negatives: Not beating the ex at home. Whole squad looking more leggy than Peter Crouch at a kick-boxing contest. No goals.