Pressure again key in win at Newcastle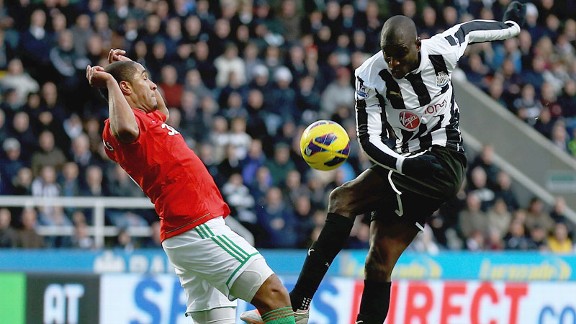 Matthew Lewis/Getty ImagesAshley Williams, left, and the Swansea defense kept Newcastle's Demba Ba in check
Swansea surprised most everyone with an efficient 2-1 victory at Newcastle Saturday afternoon. Although Newcastle were missing key players and performed poorly, failing to create enough meaningful chances, Alan Pardew's men might still have taken points if not for a composed performance from the Swans.

To earn a win at St James' Park after last week's washout in Southampton says a lot about the Swans' resiliency this season. Michael Laudrup hasn't allowed his squad to fall into a funk for any significant time, barring an early three-game losing streak more the product of an injury crisis than anything else.

The Swans' fast recovery time following poor results is one of the factors behind the small club's continued Premier League success. A few more reasons why Swansea's victory ought not to be quite so surprising after all. Football's a fairly simple game, but Swansea are especially good at:

Counterattacking: Some fans of the beautiful game like to focus on the 'beautiful' part of the expression more than 'game' part. Such observers decry counterattacking football, seeing that approach as a cheap way to punish skilful teams that can build up an attack slowly. However, the way the game has evolved, counterattacking has become essential. The good news is that the Swans counterattacking is as beautiful as any protracted build-up (see: Rodgers, Brendan). Fast, precise passes, and quick team movement. The Swans counterattacking was key Saturday.

Being a team: a classic glass half-full example, the Swans have been described as a team without any stars. It's largely true, reading "stars" to mean players such as Robin Van Persie. However, the positive is that no one Swans player is sufficiently important the team will struggle without them. When Michel Vorm suffered a serious injury recently, most Swans fans were wary of how Gerhard Tremmel would fare in his place, the back-up keeper having only played one or two games at that point. Similarly, Garry Monk, the Swans championship-paced elder statesman in defence, has been covering for the physically-dominant Chico Flores. The Swans, as a team, make the small adjustments necessary to minimise the effect of these potentially unsettling changes. The parts sometimes change, but the side continues to function almost without missing a beat. No one player is bigger than the team, and if any player did start growing an ego, he need only look to the manager's chair for a reality check. Putting one of the world's best players in charge has lots of fringe benefits.

Putting the pressure on: Last week, the Swans equalizer came as a result of Michu chasing a ball from his own half back to the Southampton keeper, and putting enough pressure on the keeper to force a poor clearance, which Nathan Dyer converted into a goal by pressuring the centre back in turn. Against Newcastle, Michu scored after Itay Shechter put Newcastle goalkeeper Tim Krul under pressure and forcing a poor clearance, which Pablo intercepted and went on to cross for the unmarked Michu to head home. The Swans do this kind of thing all the time. When Swansea put the pressure on in the opponents' third, they almost always force mistakes and create chances, and frequently score. When they don't, as against Southampton and the second half against Manchester City, the opposition can construct effective attacking moves which always lead to chances and sometimes to goals. The tireless final-third chasing from forwards Michu, Shechter and Danny Graham (who came in the 82nd minute) is key to the Swans success, particularly with their trio of opportunistic wingers sniffing around for loose balls.

And it was good to see Michu scoring again. He started the game back in the hole, from where he has scored all but one of his seven goals so far this season, after four goal-less games as the lone striker. It seems clear which position he likes best.

Final thoughts:

Positives : Scoring and winning away. Pablo and Gerhard Tremmel improving all the time. Keeping Hatem Ben Arfa quiet enough. Newcastle missing so many starters.

Negatives : Shame to squander the clean sheet at the death (Demba Ba in 90th minute); the Swans' well-organised defence earned it.