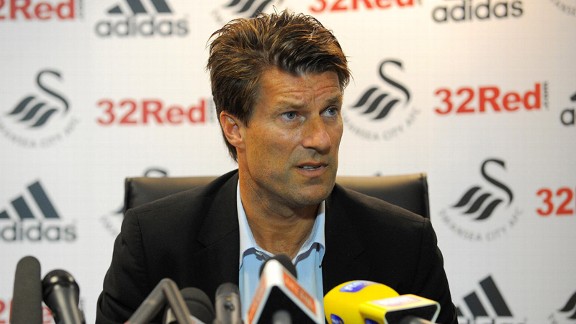 PA PhotosMichael Laudrup has allowed his players to express themselves
When Pablo Hernandez slotted home a late equaliser to give Swansea a well-deserved point against Chelsea, it was a repayment of Michael Laudrup's faith - not just in Pablo, but also in the capabilities of the entire Swansea side.

Laudrup set a new Swansea City transfer fee record when he bought Pablo from Valencia for £5.55 million last summer. It has taken a few weeks, but the Spanish winger is starting to fill every inch of the expectation attached to his price tag.

When the Spaniard's equalising goal found the net with Petr Cech unsighted by his own defence, Laudrup's transfer-market savvy and decision to make attack-minded substitutions with 25 minutes left to play were justified in a stroke.

Faced with a one-goal deficit at home with less than half an hour to play, most managers would look to make attacking tactical tweaks to push for a goal. However, with the difference in class - on paper, at least - between Swansea and Chelsea, I wonder how many managers in Michael Laudrup's position would have still followed conventional wisdom.

After all, the Swans were playing with their second-string goalkeeper and a backup central defender against one of this season's most incisive attacking units. Surely the "smaller side" here is meant to shut up shop, accept the inevitability of a loss and try to come out of the fixture with as much dignity (and as favourable a goal difference) as possible? To chase the game and push for an even share of the spoils ought to open the floodgates for counter attacking goals and an embarrassing rout as penance for daring to be so bold (see: Southampton).

However, Michael Laudrup had faith in his players and his tactics, substituting midfield lynch-pin Leon Britton for striker Danny Graham, effecting the typical oil change on the wings (this time Dyer for Routledge) and directly replacing Michu with another striker, Itay Shechter.

None of these moves were the least bit defensive, the Graham for Britton swap actually trading a good measure of defensive security for more attacking threat. As it turned out, it took a timely intervention from Gary Cahill to stop Graham from stealing all three points for the Swans at the death.

What all of this means is that Laudrup has confidence in his players to compete with the best, and Laudrup's players have as much confidence in him. Few observers would have realistically predicted a draw, or even an oh-so-near Swans win last Saturday but under Laudrup, these Swans now know they can hold their own; a win, a close loss and a draw against three big-six sides in the space of a week, with a backup goalkeeper in net for two and a third of those games, is the Swans boldest statement of legitimacy at the Premier League level yet.

Positives : Getting something out of Chelsea, and in good style. Tremmel again solid. Monk, too. Leon Britton, who ought to have a goal-line-clearance bonus clause in his contract.

Negatives : Gary Cahill's party-spoiling block.