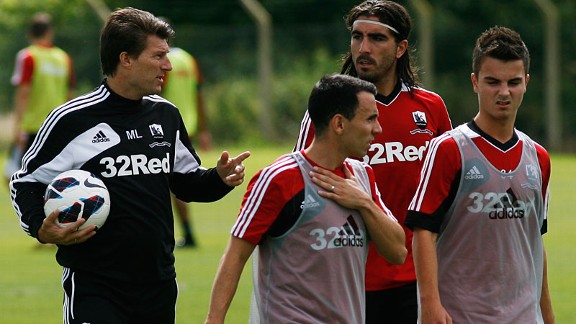 PA PhotosMichael Laudrup has Swansea playing an up-tempo style
Following convincing performances versus Reading and Wigan, the Swans momentum is once again flowing in the right direction. However, no-one will be too concerned if that momentum is temporarily suspended as the Swans visit Manchester City.

Last term, the Swans caused a shock by beating the eventual league champions one-nil towards the end of the season. That result came of course at the Liberty Stadium, and not the Etihad, where Saturday's action will take place. The Swans were deprived the chance to spoil the Citizens unbeaten record on their home turf, having been the first to play City, succumbing to a somewhat predictable four-nil whomping the second they stepped across the Premier League welcome mat.

A lot has changed since that wide-eyed opening night. This season's Swans are a different team, with a triumphant Premier League campaign under their belts, a new-look staff, several new players and the drama of the Rodgers and Allen sagas successfully navigated. All these factors have seen the Swans grow into their new Premier League boots in short order, and although a Manchester City win might be hard to avoid, the hope is that a loss might at least come with a more modest scoreline.

That said, Michael Laudrup has an impressive track record of upsetting the big boys, having beaten both Barcelona and Real Madrid in Spain with Getafe. The scale of Saturday's challenge presents Laudrup with another chance to add to those achievements, though he'll need this season's best performance by far out of his defence to get anywhere close.

Key Match-Up

Swans defence vs Man City's forwards
The Swans back line has been rocked this season by injuries, suspensions and the enduring sub-par performances of acting captain Ash Williams. The expected season-long absence of Neil Taylor excepted, the core is now back in place, and yet we're still waiting for the first really convincing defensive performance since the second week of the season.

Last week's tilt against Wigan was a start, although if not for an extremely favourable offside call from the assistant referee, Williams would have had to endure another week of disgruntled grumblings from the Swans' corner of the internet. He had left Arouna Kone wide open on the play; if he shows the City forwards as much generosity on Saturday, no amount of fortunate officiating will stem the tide - of criticism or goals.

City boast truly impressive depth among their forward ranks (and at almost every other position, for that); Balotelli, Aguero, Tevez or Dzeko are good enough to start for pretty much any team in the world. Dzeko in particular has demonstrated a lethal touch in front of goal lately, especially late in games; the Swans need only ask West Brom about that.

Swansea might be a better side than they were in last season's version of this fixture, but another shaky performance from the defence will make all that academic. Anything short of maximum effort will see the Swans looking to make up a suddenly negative goal difference next week. Perhaps having such a challenge to rise to will provide the incentive they need to remind us what this defence is capable of.

Prediction : Man City have an advantage over most clubs regardless of where they play. At the Etihad, they haven't lost in 33 games. It seems unlikely that will change now, although if City's mid-week European blues seep deep enough into the dressing room, there could be a surprise in this game.