Monk now able to focus on the future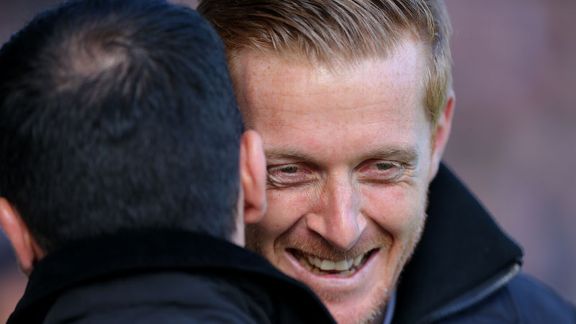 GettyImagesSwansea City manager Garry Monk shares a joke with Everton manager Roberto Martinez
The Swans slipped out of the FA Cup on Sunday with a 3-1 defeat to Everton, and while Garry Monk's controversial decision to field a severely rotated squad provided an obvious scapegoat, the decision also provided some unexpected hope for the future.

Monk extended a forest of olive branches to Swansea's forgotten men on Sunday, with nearly every Laudrup-era exile featuring. It's hard to tell whether the new boss was earnestly showing that all the players will get a fresh chance to impress under his watch, or simply scraping the barrel for bodies given a schedule almost as crowded as the treatment room.

Previously loaned prospects such as Jazz Richards and Kyle Bartley were handed rare starts, and we even got to see Leroy Lita, a man who hasn't played for Swansea since 2012. In retrospect, perhaps the only real surprise was that Monk didn't start himself.

Laudrup's prodigal sons have apparently returned with much to prove. At right-back, Richards was lively, combative and mostly unfazed at having to deal with opponents a good shade better than the Championship players he's been cutting his teeth on. As a Swansea boy, he won't have to do much to earn the backing of the fans to take over from Dwight Tiendalli as Angel Rangel's full-time understudy.

The real impact however came from Kyle Bartley. The former Arsenal defender had looked very useful in his previous starts -- tall, fast, strong, actually good in the air, and able to pass accurately over distance. Granted, his positional play hasn't always been as tight, but he's apparently learned a thing or two about that during his loan spell at Birmingham.

On Sunday, Bartley was to Swansea what Kam Chancellor is to the Seattle Seahawks: a defensive quarterback, laying his body on the line with the sort of heavy tackling that can take five years off a career, and brave enough to dare a talented attacking side to beat him before they could score.

As it turns out, Everton did beat him. Bartley hesitated given a chance to clear on Everton's first -- an ugly goal which followed a spell of penalty box pinball -- but in truth none of the Swansea players covered themselves in glory on the play. And then Bartley beat himself, by playing on through injury and turning a hamstring strain into a possible hamstring tear.

All told, Bartley's big comeback lasted all of 30 minutes, but on the evidence of half an hour alone, I'd say Swansea might have a real defensive playmaker in the fold. He'll need to temper all that bravado with a pinch of savvy and composure -- a couple of things Monk ought to be able to help him with -- but he appears to have all the tools at his disposal.

When we'll see Bartley again is anyone's guess -- there's no set return date, but 'a while' seems to be a reasonable guess. Richards meanwhile should be given a few more opportunities, although perhaps not against Napoli, or Liverpool, the Swans next two opponents.

Monk's rotation gamble might not have worked so far as FA Cup progress is concerned, but he was at least able to mend a few fences, showcase some young talent, and -- if we're being honest -- get the Swans out of a nearly un-winnable competition (given the remaining big six presence) and ease the schedule for the remainder of the season.

It's a dirty job sometimes, but Monk seems to be going about things in the right way. One win, one draw and one loss in his first three games isn't bad. With the frivolities of the FA Cup over with, the squad thoroughly examined, and Monk's feet under the table, the real work begins.