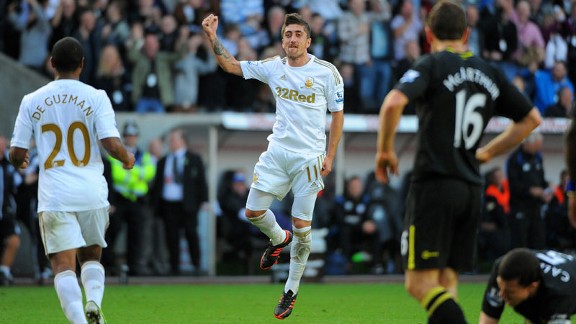 PA PhotosPablo Hernandez opened the scoring for Swansea
The Swans put recent rumours of revolt behind them on Saturday as a new generation of Spanish Swans put the sword to old master Roberto Martinez's Latics.

I had predicted a goal-fest before the game, and for the first hour this slow burner looked destined to end in a no score draw. However, the game's lingering intensity finally delivered three goals in four minutes. Wigan fans will argue that there ought to have been a fourth goal - and a second for Wigan - courtesy of Arouna Kone, but the Ivorian was ruled offside and the Swans were able to see out the game and take maximum points.

In all honesty, Kone appeared to be onside, and Wigan might have good grounds for complaint, but the Swans were the better side on the day, and despite a bothersome profligacy in front of goal, deserved to win. At least Ash Williams won't be complaining. Had the goal stood, his half-hearted attempt to mark Kone by giving him two yards of clear space might have reflected poorly on his part.

Williams' defensive partner Chico put in a commanding performance and, despite always looking one snap decision away from doing something crazy, is starting to look like the inspired purchase his first two games hinted at; not the potential liability some of his other performances have suggested.

Chico's fellow countrymen also had memorable games, none more so than Pablo, who got his first goal as a Swan with a sneaky nutmeg on the turn. Laudrup's insistence on playing the Swans record purchase over Nathan Dyer seems to be starting to have the desired effect; Pablo is beginning to fit in, a task made easier by a strong supporting cast of Spaniards.

Beyond Chico and Pablo, Rangel was characteristically solid whilst Michu scored his sixth goal in eight games - not bad for a £2 million signing. Prior to the game, it appeared that Michael Laudrup might have a couple of selection dilemmas; whether to play Danny Graham or Luke Moore up front, and whether to play Jonathan de Guzman or Ki Sung-Yueng in midfield. The Dane cleverly solved the one problem by completely removing the other - neither Graham nor Moore started. Instead Michu was promoted from his usual deeper role and began the game as the token lone striker, which in turn created space for both de Guzman and Ki behind him.

The new line-up ran the risk of unsettling the team chemistry; with five of Laudrup's summer signings pushed into the first eleven, usual starters like Graham and Dyer had to settle for places on the bench. However, when the plan works, it is hard to argue against it. Surrounding Pablo with countrymen he is able to communicate with furnished the winger with his first goal, although a passionate substitute performance from Nathan Dyer would suggest that Pablo's place in the starting eleven is far from guaranteed.

And then there is Wayne Routledge, the enigmatic winger whose fluency in football allows him to communicate with pretty much everyone, and yet sometimes no-one at all. Routledge's creative vision is often so acute that his passes are missed by every other player on the field. Ironically, perhaps the only man able to anticipate the extremes of Routledge's play isn't even playing - he's managing the Swans instead. Needless to say, Routledge was again sublime on Saturday, time and again showing the kind of touches Laudrup himself became famous for.

All told, Laudrup's reshuffle had the desired effect. A win for the Swans, and strong signs that this season's starting XI will not be so easy for opponents to predict. It is the next bold step towards growing the football club beyond it's small stature, developing the prized "strength in depth". So far, it is working.

Positives : ¡Viva Espana! Pablo's first goal. Michu's boisterous brilliance. Wayne Routledge's beautiful football brain.

Negatives : The defence still occasionally looks complacent on the one hand and skittish on the other. But it's getting better.