Fresh start benefits Swans for derby clash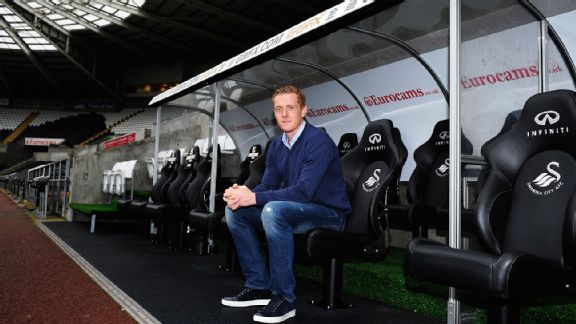 Stu Forster/Getty ImagesSwansea manager Garry Monk has a good chance to stay up.
Michael Laudrup has gone. Whether the decision was right or wrong, whether we (or Laudrup) will ever know the reasons why, the game goes on. Garry Monk's reign as new Swans boss -- temporary or otherwise -- begins with the most important fixture on the club's calendar.

- Report: Laudrup hits out at Swansea sacking

The announcement of Laudrup's sacking last Tuesday seemed to come at the worst time, four days before the South Wales derby, as genuine a proverbial six-pointer as has ever been. In retrospect, with the initial trauma of the change-over, the timing actually couldn't have been much better.

As things stand, the Swans will be far too busy regrouping and rallying around Monk to spend any time over-thinking the derby. Club-issued video of Monk's first training session in charge showed a squad of interested, positive Swansea players; not a trace of dissent, factions or fractures.

Monk's promise to return to basics should be just the tonic for a Swansea side which hit their season nadir against West Ham. Some have suggested the players knew then that Laudrup was as good as gone. Now the purge has happened, any sense of impending doom has gone with it. This is a squad renewed.

With any luck, Swansea can transform that spring-clean feeling into a positive performance come Saturday. Monk has suggested that while he will retain the Swans' basic style -- as should be expected -- there are one or two changes he will look to introduce.

It remains to be seen what those changes entail, but if they involve faster play, fewer backwards wall-passes and more pressing, then Monk will be on the right track. Swansea have too often looked slow of both foot and thought this season -- if the rumours that training under Laudrup wasn't intense enough are true, then we should see improvement on that front under Monk, whose first call in charge was a double-training session.

It might take a few games for Monk's dedication to fitness training to show, but for Saturday, the occasion alone should compensate for listless minds and bodies. Team selection will be of particular interest, not just for the derby, but also moving forward.

One knock against Laudrup was that he rotated too much, that the squad never had a chance to settle on a regular first XI. I'd suggest that Laudrup's continual changes were the result of injuries, tactical adjustments, and scheduling demands, but nevertheless Monk might try to impose some stability on the starting XI.

With Michu due back, a shake-up is inevitable, and would have been under Laudrup had he been allowed to stay. The Spaniard will want his office back, the deeper position behind Wilfried Bony, and one which has been lately occupied with increasing success by Jonjo Shelvey.

This in turn will put pressure on Jonathan de Guzman, a Laudrup favourite who has typically been played as one of the two deep midfielders. Shelvey and de Guzman have different gifts, but Shelvey's impressive and relentless effort to impose himself on games means he should start over a recently improving de Guzman, even if it means playing in the deeper role.

Then there is Chico Flores. Monk's recent bust-up with Flores was well-publicised, and although Monk confirmed that Flores will be part of his squad on Saturday, Monk didn't say he would be starting; the Spaniard might yet find himself on the bench. Flores' antics versus West Ham have not endeared him to the Swans fans, much less the neutrals, and a game out of the limelight might be a good idea.

However, if he doesn't start, it will be too easy to suggest it is because of personal problems between manager and player, despite Monk refuting that the two have any ongoing issues.

Every decision Monk makes from this point on will be scrutinised. He'll know that the fastest route to silencing the doubters is with wins. A win on Saturday will go a long way to soothing those fans who are still sore from the Laudrup sacking, and will no doubt set the tone for the remainder of Swansea's season.

Saturday's match is a must-win. It would be against any of the other 18 Premier League sides. The fact that it is against Cardiff makes for great drama, and Monk should benefit from that drama -- the fixation is firmly on the history of the derby, on the comparative strengths of the squads, what it means for Welsh football in general, as it always is.

Working under that blanket of cliche, Monk will be able to quietly go about his business -- producing back-to-basics Swansea football, and hopefully getting a result. I'm looking forward to seeing it.