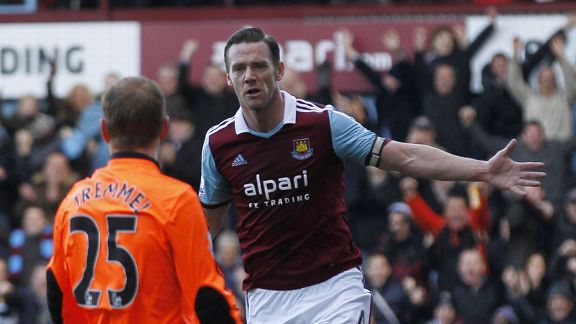 APKevin Nolan opened the scoring at Upton Park with a left-footed finish.
Swansea's trademark inconsistency resurfaced in Saturday's 2-0 defeat to West Ham. After shaking off the stink of an eight-game winless streak against Fulham last Tuesday, Swansea were expected to enjoy a run of good results against struggling sides. Instead, Swansea followed a good winning performance with perhaps their worst losing effort for some time.

Sam Allardyce meanwhile, having "out-tactic-ed" Jose Mourinho in his side's goalless draw with Chelsea, needed no such scheming to earn a result against Swansea. Route one was enough against a Swans side that couldn't have got it more wrong if they'd wanted to lose.

- Thorne: Carroll's Swan upping
- West Ham to appeal Carroll red card

The West Ham gameplan -- fire high balls to Andy Carroll, have an onrushing Kevin Nolan sweep up the loose change -- is as brutally simplistic as it is effective, and as effective as it is famous. The strategy ought to surprise absolutely nobody who comes to play West Ham at the Boleyn, and it didn't surprise Michael Laudrup.

The Dane's post-match admission that his side had spent the days leading up to the match working specifically to counter this strategy sent a strong, if thinly-veiled message. Laudrup recognised the threat, Laudrup coached his players to negate that threat. If the players couldn't deal with the threat on the day -- which they clearly couldn't -- the dysfunction lies with the players, not their manager.

Yet Laudrup continues to come under fire from certain quarters of the media, and even from the Swans fanbase. It was not Laudrup who didn't mark Carroll on West Ham's first, and it wasn't Laudrup who allowed Nolan to go completely unchallenged as he scooped home their second. It's easy to criticise Jonjo Shelvey for moving off the post, but where was the man on the six yard line?

Perhaps people forget that the Swans manager has played the game at the highest level. Swansea's naivety surrounding some of the goals they concede is cringe-worthy at times, but the error is with the players; their manager knows well enough all the tricks of this trade. He even wrote a few of them.

The best any of the Swans could do to contain Carroll was when Chico Flores exaggerated injury to get the player sent off, and even that was exactly the wrong thing to do at the wrong time. With thirty minutes left to play and a two goal lead, losing a man was never going to hurt West Ham. Quite the opposite; it gave Big Sam license to sit all his remaining outfield players behind the ball and watch an increasingly desperate Swansea flounder trying to find a way back in.

Saturday's game plan was surely a simple business. Man-mark Carroll and Nolan all game, play a high defensive line to keep them out of the box, and look to make quick attacks. Instead, Carroll and Nolan were left alone to do as they pleased in the Swansea box, and when the Swans did attack, it was with undue caution, over-fussy passing and zero pace. Of course, the only time Swansea found any urgency was after Carroll's dismissal, at a time when West Ham had all the advantage.

Ironically, the best Swansea chance came early on when Jonjo Shelvey spotted a defence-splitting run from Wilfried Bony and fired a perfect West Ham style long ball to the striker, who might have scored if not for an excellent tackle by James Tomkins which looked for all the world like a penalty, but by the width of a stud was not. And having come so close, did the Swans try the same again? No.

It is hard to say what part of Saturday's loss is the most embarrassing. Chico's acting? Unmarked Carroll? Precisely zero shots on target from 17? I'm glad that Laudrup isn't more animated. The last thing Swansea need is a publicly flustered manager screaming and shouting to add to the spectacle.

The players know they failed to perform. Laudrup won't shout because he knows he shouldn't need to undermine his players or insult their intelligence by lambasting them like naughty school children, or pet dogs who continue to mess the carpet regardless of how much house training they get.

Perhaps the most telling part of Laudrup's post match interview was the moment he said: "It was disappointing and [there's] nothing else to say about it." Laudrup has clearly already said everything he can. There's no need for a post-mortem following this defeat; the reasons for it are obvious to everybody. The onus is on the players to perform. As a unit, they simply didn't do that on Saturday. Next week, they absolutely have to.