Swansea's low-profile window not a surprise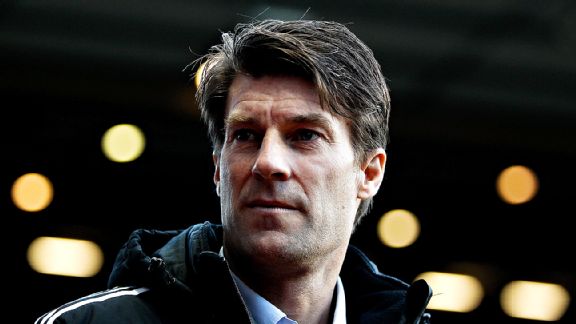 Ben Hoskins/Getty ImagesSwansea boss Michael Laudrup was content to exercise financial caution during the January window.
An underwhelming transfer window in general saw Swansea haul in a bag full of spare parts and promises. The bigger names might not have made it over (Nacer Chadli, Tom Ince), but the Swans' conservative activity is still a good sign. Evidentially, Michael Laudrup and Huw Jenkins are happy that the Swans' existing squad is more or less good enough.

- Walsh: Transfer window pros and cons
- Report: Emnes returns to Swansea on loan

If the summer's 12 million pound single-player splurge on Wilfried Bony might have been at odds with the Swans' usually modest expenditure, it is safe to say the financial caution which has long served the club so well looks to be firmly back in place. It seems likely the deal-breaker in the Ince loan scenario was the one million pound fee which Crystal Palace eventually saw fit to meet for six months of service.

Rather than concentrating on the short-term, the Swans addressed the future with the addition of a trio of youngsters -- Adam King and Jay Fulton from Hearts and Falkirk respectively, and ex-Blackburn Rovers left back Raheem Hanley. The prospects will flesh out the development squad and should eventually give Swansea a couple of decent homegrown first team players.

For the first team, Championship strikers David N'Gog and Marvin Emnes were brought in to provide cover for Bony. Cynically, it's easy to suggest that instead of getting one good striker, Swansea have just gotten a whole bunch of average ones in the hope that one of them will work out. That might be a case of "market forces" (i.e. inflated January prices for top talent), but I'd like to suggest it could be something more.

N'Gog is, in many ways, a classic Swansea City signing. The striker is something of a misfit, a former big six prospect who didn't quite work out for one reason or another. Wayne Routledge, and previously Scott Sinclair, were both multi-club misfits who didn't show their best until they got to Swansea. There's no doubt N'Gog has talent -- he has height, pace and skill -- so there is a chance he could follow suit.

Laudrup cited the striker's Premier League experience as the chief reason for his signing. You don't need to be an expert at reading between the lines to interpret that as a comment on Alvaro Vasquez, who has very much struggled to adapt to the British game.

Emnes is another case entirely. He might already be famous in Swansea for scoring in the South Wales derby some seasons ago during a month-long loan, but that was a long time ago now, and the Swans have progressed a lot in the meantime.

Clearly, there is some connection between the Swans board and the player, though whether that connection is personal or based purely on favourable scouting reports is debatable; after all, Emnes has not lit the Championship on fire, and Swansea have seemed to be the only team interested in acquiring him for years now -- his name is always linked with the club.

Well, the Swans board finally got what they wanted -- Emnes will have the rest of the season to justify Jenkins' love, and given Emnes' recent re-appropriation as a second-level attacking option rather than a dedicated striker, he could be given more playing time than N'Gog.

The jury is very much still out on both players, and with each signed only until season's end, both are very much auditioning for a long-term role. Jonjo Shelvey has supported N'Gog's move, speaking highly of his former Liverpool team-mate. Emnes, meanwhile, might be the kind of player who is better suited to a higher level of play than the Championship.

If that sounds like an odd statement, think about poker -- it's often an easier game to play against more sophisticated opponents than it is against lower level maniacs, and Swansea's intelligent style has long been one more attuned to the top flight than the lower reaches.

It'll certainly be interesting to see what these players can do with the limited appearances they're likely to get. On the whole though, it is a good thing that Laudrup and Jenkins didn't upset the balance of the squad they assembled in earnest over the summer. With injured players returning, Laudrup would have quickly run into trouble trying to find enough time to satisfy higher profile acquisitions.

Of course, if Swansea are stung by any more serious injuries, their modest activity this window will come under revised scrutiny, but for the time being, the club's low-profile business has been all that's required.