Swans stop the rot to ease relegation fears
All this talk of Swansea and relegation has made the last few weeks feel like some sort of alternate reality, one in which team-mates (allegedly) brandish bricks and the Swans' talented manager Michael Laudrup threatens to walk out.

I even read one report claiming that Tony Pulis was being lined up to replace the Dane. Yes, that Tony Pulis, despite his astonishingly good work at Crystal Palace and his equally astonishing unsuitability for the Swansea job.

Of course, none of these things happened, or will happen, and rumours like these are little more than the misguided knee-jerks of a football world struggling to react to an entirely uncontroversial storyline.

It isn't difficult to understand the reasons for the Swans' recent plight: tough fixtures, multiple injuries and a few bad bounces. Through it all, though, Swansea haven't succumbed to playing badly or losing too much heart and Laudrup -- who has been criticised for the apparent crime of immaculate composure -- has not panicked.

- Relegation fears eased

With any luck, Swansea's comfortable 2-0 victory over Fulham on Tuesday night will stop the silly talk, just as it stopped an eight-game winless streak in league play.

What was striking about the victory was that Swansea did nothing particularly special and nothing especially different. Results might have been hard to come by recently but, more often than not, performances have been sound, even in defeat.

There have been no embarrassments to equal, for example, last season's 5-0 drubbing against Liverpool, the result of Laudrup having fielded a weakened side ahead of the League Cup final.

Many of the Premier League sides in real danger of relegation this season have routinely looked lacklustre, beaten or over-matched, and Rene Meulensteen should question Fulham's lack of energy. Swansea, by contrast, have kept on a comparatively even keel, especially given the rash of injuries to significant players.

On Tuesday, several key men returned, and with both goals coming as the result of deflections, it is fair to say that for once, the Swans also got the bounces.

Perhaps destiny was changed during Saturday's FA Cup victory against Birmingham when the Swans played badly and won: a far better trick than impressing but ending pointless.

Instrumental at St. Andrews was Wilfried Bony, who netted both goals and looked likely to get a hat-trick in just one half of play. More than just a goalscorer, the Ivorian has become a beacon of positivity and power for the rest of the squad to rally around.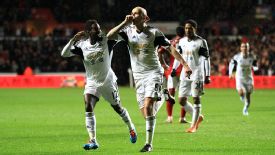 GettyImagesShelvey celebrates giving Swansea the lead against Fulham.
Lately, the striker is matching the efforts of Jonjo Shelvey, another notable contributor in the absence of Michu's volatile cocktail of focus and frustration.

Jonathan de Guzman, the polarising set-piece specialist and Laudrup favourite, proved through his recent absence how much he really does have to offer.

Despite showing improvement, his defensive game could still use work, but it was his contribution to the attack that was notable on Tuesday, as he slotted into place like a jigsaw piece nobody knew was missing, until it completed the picture.

With Michu due back soon, a firing striker, a clean sheet and a rare home victory can be built on in a run of winnable fixtures and Swansea are in great shape to reassert themselves as a top half team.

Laudrup's lack of histrionics and measured use of the transfer market this window are the signs of a man who knows exactly what he is doing. His side are back on terms. Until the manager starts sweating, there's no need for anyone else to, either.