Are Swansea in danger of relegation?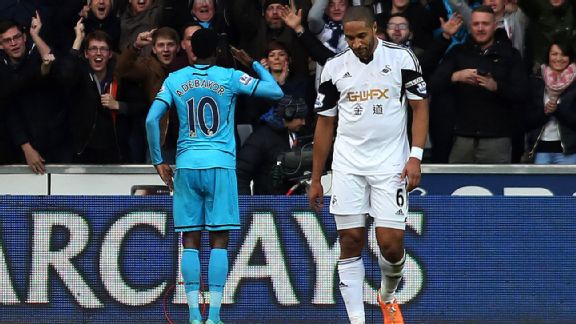 Geoff Caddick/AFP/Getty ImagesSwansea's inability to capitalize on good performances has put the Welsh side into an inconceivable relegation battle.
Football loves a relegation scrap. Title races are ok, especially for the teams (and fans of those teams) involved, but there's something missing from a title chase. The shortfall for the runner-up is second place, which still translates into Champions League qualification. That's a bit like getting a slightly smaller gold medal instead of a silver or no medal at all.

Yet there's a lot more drama, and more at stake, at the other end of the table. Following Sunday's 3-1 home defeat to Spurs, Swansea are now officially in the relegation discussion.

Of course, so are nine other teams. Only six points separate tenth place from dead last. That's two wins. Swansea's position exactly in between those two extremes -- three points either way from mid-table security or last place -- is nothing to worry about, yet. The Swans' next four games, all against fellow strugglers with three coming against teams below Swansea in the standings, will define the rest of their season.

The truth is, for the most part Swansea haven't played poorly recently. They've actually played well. The Swans came out fighting against Spurs, and were the better side for the first 30 minutes or so -- not just maintaining possession and control over the game's tempo, but also threatening to score with the kind of enthusiastic display of trigger-happy shooting I've been wanting to see for weeks.

Wilfried Bony nearly broke the bar with an awesome long-range drive, while referee Martin Atkinson upheld tradition by refusing to award Swansea a penalty so blatant that even Tim Sherwood admitted it ought to have been given. The game could have been so different, but Spurs got a goal against the run of play and a Swans side that has played well without reward for weeks now duly let their heads drop.

- Crace: Sherwood's Spurs march on
- Report: Swansea 1-3 Tottenham
- Watch: Game highlights (U.S. only)

If Swansea continue to play as well in their next four matches, and against lesser opposition than they've recently had to endure, they ought to win. The small difference in quality means that shots that have been deflected, blocked or saved against the league's top sides should translate into goals against those at the bottom. Likewise, the superior class and killer instinct which has seen top opponents maximise their limited opportunities will be missing.

On the field, Swansea have the ability to pull away from the relegation mire and into the comfortable pocket of space just under the top six or seven sides. The answer lies in mental attitude.

After Spurs opened the scoring on Sunday, Swansea stopped playing well for a long stretch. Passes that were connecting stopped connecting, an edgy hush fell over the Liberty faithful -- a reflection of the players' own tangible anxiety -- and ultimately Swansea suffered the ignominy of an own goal with the unfortunate culprit Chico Flores under virtually no pressure whatsoever.

Swansea's poor track record when conceding first (they nearly always lose) betrays a lack of belief. Goals are just goals, and it shouldn't matter who scores first. If Swansea had played the rest of the game as well as they'd played the first 30 minutes, they might yet have gotten something out of Spurs.

The trick now is in restoring confidence. It should help Swansea to know that while their next four games are important, their relegation rivals also have a hard month ahead. Each of the five teams below Swansea will play their next four games against sides higher than them in the standings, and every one of them has at least one date with a top six opponent.

The fixture list suggests that the six-point gap between middle and bottom will start to spread this month, and Swansea have a great chance to make sure they are on the right side of the impending separation. The ability is there -- for thirty minutes, an injury-bombed Swansea side playing a center half in midfield might have beaten Spurs. But what about the belief?

Nothing lasts forever, not even losing streaks. If nothing else, each loss brings the Swans closer to their next win. It's well overdue.