Swans could stand to be more selfish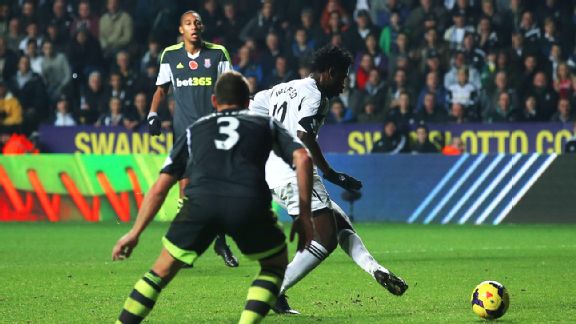 Clive Rose/Getty ImagesSwansea supporters wish that Wilfried Bony's propensity to shoot would rub off on a few teammates.
Sitting just three points off the relegation zone is probably not where Swansea wanted to be in just a little over the half-way point of the season. With points proving a little hard to come by at the moment, injuries piling up and an open transfer window, many are expectant of some kind of key signing to provide the Swans with a saviour, or at least shore things up. However, for all their recent difficulties, the Swans already have the power to save themselves, and the answer lies in one of football's most fundamental statistics.

- Report: Poyet keen to sign Ki permanently

The most common reason rolled out to defend Swansea's underwhelming results is that the side don't create enough chances. I disagree. It would be fairer to say the Swans don't take enough of the chances they do create, and more accurate again to say the Swans don't even seem to realise when they've created a chance in the first place.

That fundamental statistic I alluded to earlier is shots on goal. Take the last six games Swansea have played. In three of them, Swansea were fantastic; the 1-1 draw versus Aston Villa, the 2-3 loss to Manchester City, and the 2-1 FA Cup win versus Manchester United. In each of these games, Swansea out-shot their opponent. In the other three games, the Swans weren't quite as good: a 1-2 defeat to Everton, a 0-1 defeat to Chelsea, and last Saturday's 0-2 defeat to Man United. In each of these three games, Swansea were the ones being out-shot.

The edge might only be slight -- a few shots either way -- but the difference is telling on the field. Another problem is shooting accuracy. Over those six games combined, Swansea achieved a shooting accuracy of just 21%. Swansea's opponents combined for an average of 35%. The Swans poor accuracy is undoubtedly the reason they had to settle for a 1-1 draw with an Aston Villa side that they played off the park. In that game, Swansea managed more than double the shots on goal of Villa, with 17 to 7, and yet both sides managed three on target. That's 18% accuracy for Swansea, 43% for Villa.

Swansea have a side full of playmakers, but short on finishers. Wilfried Bony is more than doing his job, striking at around a world class 0.50 goals-per-game rate, and taking on average 2.8 shots per game in league play. However, the Swans' second-level attackers are painfully gun-shy; Pablo Hernandez, Wayne Routledge, Roland Lamah, Alejandro Pozuelo and Nathan Dyer have combined for six league goals, the same amount Bony has managed on his own. That same group of players seem to hate shooting. Respectively, their shots-per-game are 0.9, 0.7, 1.6, 0.6 and 1.4, respectively. Unsurprisingly, the two with the highest numbers -- Lamah (1.6) and Dyer (1.4) -- have scored five of those six goals between them. Coincidence? Hardly.

If ever a side could be accused of trying to pass the ball into the back of the next, it's Swansea. While the side's commitment to attractive football is commendable, there is the feeling that too often their industry is wasted with one pass too many. With the exception of Jonjo Shelvey, who will fire long range shots given an opening, Bony seems to be the only player with license to shoot. It is almost as if nobody else is allowed, and too often, the move has broken down before the ball can reach the Ivorian.

I wonder how many more Bony would score if only his teammates would be more selfish -- just think about the potential for rebounds and tap-ins if the second-level players were happier to test the goalkeeper more often. Michu is greatly missed because he is a second-level player, driving forward from the hole, who is happy to shoot. Not only is Michu confident in his shot, he has the ability to be unpredictable, the technique to stab a shot off with no backswing or to hit the ball first time. In his absence, others have to replicate his desire to score, because if you don't shoot, you don't score, and if you don't score, you can't win.

Swansea's playmakers do create plenty of chances, but they just don't see them as chances -- so often a Routledge or a Pozuelo will have the ball at their feet and an open shooting lane on goal, but always the first thought is another lay-off. In fact, most of the time you'll see a Swansea player berating a teammate, it is not for selfishly firing off a shot, but for forcing a pass to someone else instead and losing possession. It might seem counter-intuitive for such a fluid, pass-obsessed team with a strong ideology of the power of the collective over the individual, but a little more selfishness wouldn't be a bad thing for Swansea.