Swans fail to turn possession into goals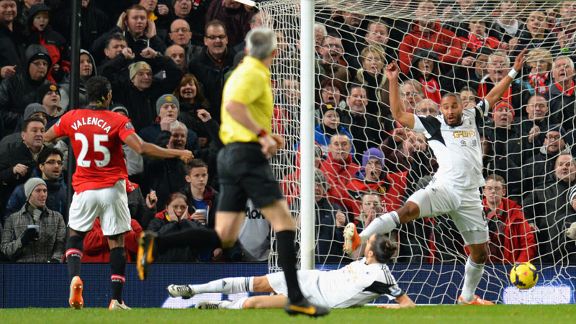 GettyImagesAntonio Valencia nets his goal against Swansea.
Swansea's unexpected FA Cup victory might have given Swans fans a false sense of confidence heading into Saturday's late Premier League game, which United won 2-0. Such was the authority of the cup victory that a repeat honestly felt, not just possible, but plausible even, especially with no Wayne Rooney or Robin van Persie in the United line-up.

Swansea of course have their own injury problems. Jonathan de Guzman, who has been progressively proving his worth in recent weeks, missed the game, and when midfielder Jose Canas became the ninth injured Swan early in the game, centre-back Jordi Amat had to deputise in the middle.

In the event, Amat did a convincing job as a holding midfielder, and although the injuries troubles are mounting, they weren't the reason for Saturday's defeat. Rather, David Moyes was back to his old Evertonian self, putting his historical hex on the Swans with smart tactical changes.

Specifically, Moyes' choice to switch Adnan Januzaj and Shinji Kagawa at the interval reaped almost instant benefit. Moyes identified the sizeable pocket of space behind Angel Rangel, and set the faster, trickier Januzaj to exploit it where Kagawa, a tourist on the wing who has always played his best football centrally, had failed.

Of course, it is hard to ignore the fact that United's first goal ought never to have been scored; Antonio Valencia was offside in the build-up. There has been precious little talk of Valencia's dubious positioning on the play, perhaps because as Januzaj's lofted cross was struck, Valencia, despite occupying an offside position, did not seem to be interfering with the play. However, the fact he then chose to attack the cross, competing with Ash Williams (who won the header), made him very much active in the play, at which point his offside position at the time the cross was struck should have become pertinent.

Conspiracy theorists (well, me specifically) might like to point out that Manchester United's terrible run of three straight defeats and slumping league position is bad for the league. United remain the Premier League's most successful product, and a poor season for United reflects badly on the Premier League overall, which itself is struggling against stiff competition from La Liga in Spain to retain it's reputation as the 'best league in the world.' Without that designation, the world's top players might choose to play their football elsewhere, which in turn would hamper the Premier League's ability to regain pole position, as well as seeing significant amounts of money go elsewhere.

So United got a typical big six decision on home turf against a smaller side to help them arrest their slump. United deserved the victory in the end based on their second half performance, and on Swansea's inability to turn substantial possession into chances in the Swans-dominated first, but imagine if the goal had been (correctly) chalked off?

Instead of providing a confidence boost, that might have done for United, who likely would have felt they couldn't buy a goal at that point. It's all academic now anyway, but I wouldn't be surprised if Swansea get an unusually favourable rub of the green against Spurs next week, the perfect side against which to compensate Swansea since they presently sit just three points in front of United.

Conspiracy musings over, the Swans still forced an unwanted statistic on their opponent -- the least possession held at Old Trafford by the hosts since records began -- but couldn't turn all that ball into goals, or even dangerous shots. Swansea had been excellent for three games on the bounce before Saturday, and in fairness, there were still plenty of positives on show.

Alejandro Pozuelo continues to make a mockery of his 425,000 pound fee, growing in confidence and generally dishing out smart passes at the right times to the right players. If there has been a positive to Michu's continued absence, it is that Pozuelo has doubtless been given more game time as a result.

De Guzman was made to look more valuable by his absence, although Michael Laudrup's refusal to recall Ki Sung-Yueng from Sunderland to offset Swansea's injuries has annoyed some sections of the fanbase. Laudrup is actually being fair to the player -- he knows that Ki will not get near the minutes at Swansea he is presently enjoying under Gus Poyet, and if Ki's time at Sunderland has proved anything, it is that he is better going forward, where Swansea are already well-stocked.

A combative deep player would be better, the kind of player who will aggressively shut down opponents, since Kagawa and Januzaj were allowed far too much time to cause trouble in Saturday's second half. We'll have to wait and see what the transfer window brings on that front, but Swansea should at least look ahead to some winnable games in the meantime.