Swansea realising ambition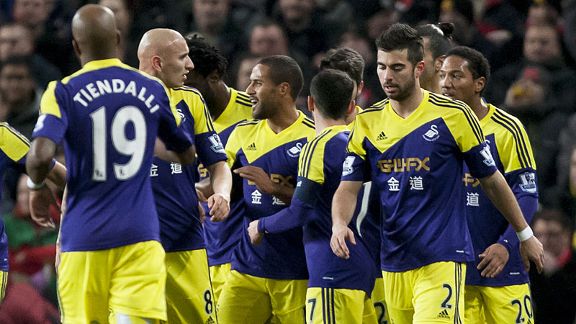 GettyImagesSwansea celebrate their first goal against Man United.
Beyond a shared footballing philosophy, there is another reason Michael Laudrup is a perfect fit for Swansea City. Neither Swansea chairman Huw Jenkins nor Laudrup are happy to subscribe to the accepted narrative of British football: that small teams should know their place. Swansea's unlikely 2-1 away victory on Sunday -- the club's first ever win at Old Trafford -- underscores the audacity which has long lain at the heart of South Wales' favourite Cinderella story.

Much has been said and written about the fallout around Manchester following Sunday's game. David Moyes' inability to fill football's most enormous shoes shouldn't be a surprise, but such is United's winning tradition that he is already in danger of becoming George Lazenby to Sir Alex Ferguson's Sean Connery (with some suggesting that Laudrup himself is set to become this analogy's Roger Moore in the summer). However, Sunday wasn't so much about United's failure as it was about Swansea's success.

- Delaney: Pressure's on
- Okwonga: Flailing Cup failure
- Jolly: Tactics Board

United apologists have been quick to roll out the list of absentees from Sunday's defeat: no Robin van Persie, no Wayne Rooney, no Michael Carrick. However, Swansea were missing just as many key players of their own: no Ash Williams, no Ben Davies, no Michel Vorm, no Michu (and if Davies's name seems like a stretch in this comparison, then I'd suggest you haven't been watching the Swans this season -- the left-back has been vital).

Even Moyes himself pointed out that his supposedly weaker starting line-up was mostly filled with international players -- a feat that Swansea even playing their best XI couldn't match. Moyes' statement appears to put a measure of blame on his players, and rightly so; for large stretches of the game, and without exaggeration, Swansea were comfortably the better side.

Laudrup out-managed his opponent on the day. Swansea's rotated defence held United's rotated strikeforce, whilst the midfield controlled the game and Wilfried Bony continued his recent fine form. It seems incredible, because a small team with a small squad should never be able to out-depth a bigger side, but that's exactly what happened.

Some are saying that United have lost their fear factor, but Laudrup has never been afraid, of United or any other side. In league play against United last season, the Swans managed a draw at home and a slim 2-1 loss away. On Sunday, after Fabio's dismissal, Laudrup wasn't afraid to go for the game, putting a second striker on and smelling blood where many other managers of small sides would have simply seen the red card as an opportunity to hold the draw and settle for the replay.

Everything about Swansea bursts with an ambition to push this club as far as it can go. Laudrup was an impressive capture when the Swans needed a new manager. The squad additions have been the best the Swans money could buy; in some instances players who rightfully could have signed for bigger clubs, but Swansea have long held a rare gift for unearthing football's forgotten men, the diamonds in the (Spanish) rough.

This season in particular, Swansea alumni are acting as ambassadors for the little Welsh club -- Merseyside has sprung to life as Everton and Liverpool vie for top four finishes, with the men at each helm both former Swans. This transfer window will likely see renewed interest in certain Swansea players -- Michu, possibly Ben Davies -- but the club won't sell, or at least not cheaply. Again, the Swans will defy the narrative that suggests a small club will always sell to a bigger club. Swansea are not content to become a farm team for anyone (despite producing a solid line of managers), they have their own agenda.

That agenda this season remains consolidation in the Premier League, and if that doesn't seem like a particularly lofty aspiration, it is worth remembering that in British football, consolidation simply means being part of the "small fourteen" rather than the "big six", and the safe part at that. Beyond the league, there is the distant allure of Europa League victory, and, evidentially, the potential for a deep FA Cup run, too.

Whilst Swansea's inherent ambition is matched by its manager and its players, this is a side which will continue to punch above its weight. All things considered, Sunday's result might not even be that surprising after all.