Bony surge puts Swans in good spot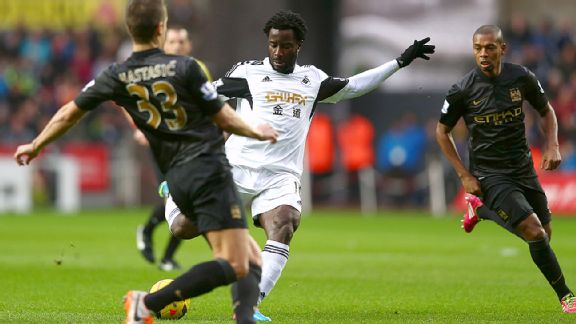 Michael Steele/Getty ImagesWilfried Bony's two goals scored versus Manchester City is a good sign for Swansea fans.
Ninety minutes of rain-sodden football had already been played. The game had moved into the first of four minutes of time added on, with the scoreboard showing Swansea City 1, Manchester City 3. And Wilfried Bony, enjoying a rare full match, rewarded Michael Laudrup for the extra time given to him by ripping a 25-yarder into the far corner of the net. Bony's second strike of the game added some deserved respectability to Saturday's eventual 3-2 scoreline -- Swansea were brilliant -- and suggested that Bony is certainly ready for the Premier League.

- Report: Swansea 2-3 Manchester City

Swans fans had seen the first solid proof that Bony would be 12 million pounds invested rather than wasted when he scored a brace in the 3-3 draw versus Stoke. Just when it seemed as though the striker was about to settle in and go on a run, he picked up an injury two games later, missed three more games, and has been slowly regaining match fitness on the job ever since.

Bony's second goal against Man City might, on paper, seem little more than a late consolation goal in a losing game. In reality, it was the icing on the cake of a man-of-the-match performance for the striker, who came close with three other well-struck shots throughout the game. There is a small argument to be made for offside on Bony's first (by a shoelace if at all), but all in all, the striker's physicality, intelligent positioning and willingness to drop deeper to get involved in the game (and rake off those tasty long shots in the process) demonstrate a complete skill-set -- exactly what is required of a lone striker.

In his Stoke performance, Bony made smaller men out of Stoke's notoriously imposing backline, and the Man City defence are hardly lightweight, either -- Vincent Kompany is arguably the Premier League's best centre back, and Bony's second was scored from range at a time when Javi Garcia had been brought on to shield the Citizens' back four.

In running with the best, and beating them, Bony ought to have silenced his doubters. In the run up to the opening of the January transfer window, much was said and written in evaluation of the summer's biggest signings. Although Bony's name rightfully didn't crop up in any "worst buys" features (that I saw, at least), it might have been fair to say the jury was still out, for some at least. Twelve million pounds buys a lot of expectation, if nothing else.

In league play alone, Bony has now scored six times in just nine starts. Adding in seven substitute appearances, Bony has played 901 minutes of league football, and a lot of those minutes have been played without full fitness, or were late cameo appearances. Regardless, Bony is averaging 0.59 goals-per-game. For perspective, a 0.33 rate is a reasonable expectation for a striker at any level (it's the rate Danny Graham achieved in the Swans' first Premier League season), while 0.50 -- or a goal every other game -- would be considered world class.

Fatigue throughout the Swans' squad in general might have been the biggest factor in Saturday's loss (that and two fortuitous deflections on Man City's second and third goals). The fact that Aleksander Kolarov was allowed to run the length of the pitch to score underlined Swansea's collective lack of second half legs, but Bony still had intent, presence of mind and concentration sufficient to find a late goal. He is capable of posing a threat for an entire match.

After Swansea's exhausted players have had a chance to rest and match Bony's fitness (an unexpected benefit of the injury lay off, perhaps), he'll have an engine room running behind him at full bore. The Swans might have a difficult January, and as far as the standings go, things might get a little worse before they get better, but with one or two new additions in this window, a rested squad and Bony living up to his price tag, the Swans are in great shape going forward.