Swans rediscover fluid football at Villa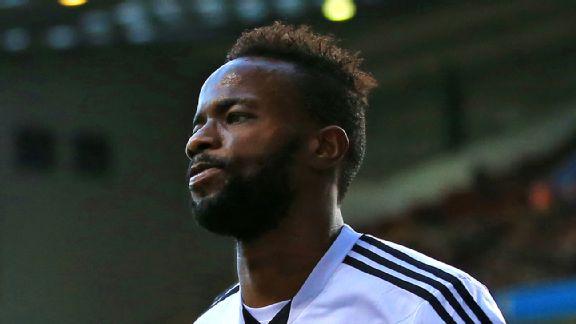 Richard Heathcote/Getty ImagesRoland Lamah capped a standout performance with the lone Swansea goal in the Swans' 1-1 draw at Villa.
Inconsistency might be the byword for Swansea's season so far, but that particular character flaw is so much easier to forgive when we see the better side of this squad. Saturday's 1-1 draw with Aston Villa was in sharp contrast to Thursday's 1-0 defeat to Chelsea. Swansea posed no threat at Stamford Bridge, but at Villa Park, the attacking talent of this team was very much in evidence.

- Report: Aston Villa 1-1 Swansea

I had been critical of Swansea for apparently prizing possession over shots against Chelsea, but on Saturday Swansea showed you can have both, wresting a muscular 73 percent possession from Villa and firing 17 shots in the process. Swansea might not have won the game, but in the same way a credible defeat against Chelsea felt worse for its nature, Saturday's draw ought to feel like a win based on the football alone.

Having seemingly shaken his post-recovery stupor, Pablo Hernandez was Swansea's best player on the day. The Spaniard's intelligent passes and direct runs with the ball caused the Villa defence all manner of discomfort. For once, it was a joy to watch a Swansea player take men on, instead of lamely recycling the ball to a nearby team-mate, and it was no surprise that Pablo was involved in the Swans' goal, assisting Roland Lamah with a perfectly weighted far-post cross.

Lamah himself almost had as good a game as Pablo. Aside from the positional awareness he showed in being in the right place at the right time to take his goal (it's amazing how often Swansea crosses drop to an open space at the back stick), Lamah was also unafraid to run at players, and is starting to look very useful. Between them, the Swans wingers chalked up eight dribbles, six key passes and four shots -- not far off Swansea's entire team totals in those categories from the Chelsea game (nine/six/eight).

Elsewhere, Jonathan de Guzman continued his quiet evolution from midfield lightweight to solid all-rounder, continuing to hold a deeper position than previously, playing in those ahead of him as often as shielding his back four. The Swans defence was -- one costly and over-enthusiastic flail from Chico Flores notwithstanding -- excellent once again, limiting Villa to just seven shots all game.

Swansea's rediscovered taste for attacking football almost infected the side's legendarily futile set-piece play. Ben Davies very nearly scored from a corner, and while nobody else came quite as close as the left back, there was a rare feeling that someone might just put one in for once. It didn't happen, and some of the credit for Swansea's unexpected set-piece threat has to go to Villa's pedestrian defending of those situations, but even looking likely to score is an achievement for a team with the league's third joint-worst conversion rate.

The set-piece manual might remain unread, and Saturday might have (somewhat unfairly) only yielded a single point rather than three, but the reminder that Swansea can play dangerous attacking football and not just pretty possession football should be a boost for everyone: the players and the fans.

Perhaps the Swans' new positivity is the by-product of a release of tension; the collective realisation that with the gruelling Christmas fixture list completed, the Swans will have the least taxing schedule of their season so far to look forward to.

January's battles with the big boys (Manchester City and Spurs once each, Manchester United twice) might inhibit the Swans' new freedom a touch, but maybe now we'll see less of the damage-limitation football, the plodding, energy-conserving, squad-management football, and more of the attacking, fluid, flair-based football this side has built its reputation on.