Swans play the proper way, on and off the field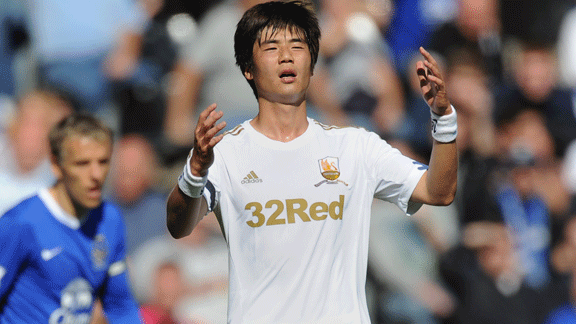 PA PhotosKi Sung-Yeung: A long-shot and long-pass specialist
Swansea City are expected to announce a £14.6 million profit from their debut Premier League season, and in doing so will once again position themselves as the poster boys for a perfectly run football club. The amount includes the £5 million or so the Swans received from Liverpool for Brendan Rodgers and a handful of backroom staff, but the Swans have raked in even more cash since.

- Swans announce £14.6m profit

Liverpool's generosity didn't stop at Rodgers. The Northern Irishman hadn't even ironed out the imprint of Kenny Dalglish's backside from the Liverpool hotseat before initiating the move for Joe Allen which saw another £15 million roll into the Swans' coffers. Then Manchester City kindly offered another few million for Scott Sinclair. In both cases, the Swans upgraded at a profit.

On early evidence, Ki Sung-Yeung can do everything Joe Allen did and cost a third of what Liverpool paid for the Welshman. The Swans also got another foot of height into the bargain. On the wing, Pablo cost less than what Manchester City paid for an under-performing Sinclair. The internationally capped Spaniard has shown flashes of excellence, and certainly appears to have the potential to eclipse his predecessor.

Observers expected the Swans to badly miss loan star Gylfi Sigurdsson this season, who wound up costing Tottenham four times what the Swans eventually paid for his replacement Michu, La Liga's top-scoring midfielder last season. With five goals in seven games, Michu looks more than capable of filling the Iceland international's boots.

In fact, for the same price Liverpool are reported to have paid for Jordan Henderson alone, the Swans have been able to buy Michel Vorm, Chico, Michu, Ki and Pablo. Or, for the price of Stewart Downing, you could have those five players and an extra £4-5 million change.

Those two transfers have become particularly notorious and will likely continue to crop up in "worst transfers ever" conversations for quite some time, but even a comparison of more recent transfers paints the same picture. Jack Rodwell cost Manchester City £12 million. And Steven Fletcher, who despite being an excellent signing for Sunderland, cost the same; almost as much as all five Swans players combined. Michu alone has more or less kept pace with Fletcher's scoring output at a sixth of the outlay.

The message here is simple; the Swans not only show that it is possible to field a competitive side in the Premier League whilst operating at a profit and playing good football, but they seemingly defy tradition. The smaller clubs are expected to sell their better players when the big teams come calling. The Swans do that and then manage to go out and actually buy better players than they sold, while pocketing sizeable amounts of change in the process.

The Swans' fantastically frugal and demonstrably successful approach largely goes unheralded despite the financially austere times we are told we are living in. Arguably, Swansea City should be held up as an example of how to run a football club properly. In many ways, it is fitting distinction - after all, this is a club that was once sold for a single pound. You can't get a better bargain than that.