Laudrup proving he is ready for next step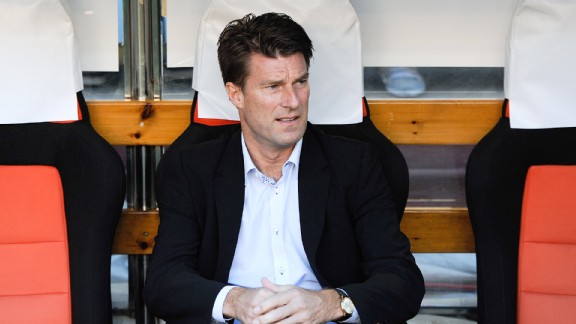 David Ramos/Getty ImagesMichael Laudrup has boosted his stock with his record at Swansea.
When Michael Laudrup first appeared as a 25-1 longshot to become the next Swansea boss in the summer of 2012, I immediately put my money down, partly in the hope that Swansea could attract such a high-profile name and partly out of affection because Laudrup was one of my all-time favourite players. A season and half on, and I still believe Laudrup's signing was a stroke of boardroom genius.

With five Premier League managers losing their jobs before Christmas, and Laudrup emerging as one of the favourites to replace Andre Villas-Boas at Spurs, this might be a good time for Swans fans to reflect on their good fortune while it lasts. It would be too easy to take Laudrup for granted, but his impact on Swansea City has been undeniable.

-Brewin: Six contenders for Spurs job
-Michu wants Apsas on loan

Since his arrival, Laudrup has broadened the Swans' tactical understanding and developed plans B and C to go with the plan A the rest of the league was starting to figure out. His presence has helped attract bigger names than might otherwise have been possible, and his acumen in the transfer market is unmatched -- what kind of team would Swansea be right now without Michu, Chico Flores, Pablo Hernandez, Alex Pozuelo, Jonjo Shelvey, Jonathan de Guzman, Roland Lamah, Alvaro Vasquez, Dwight Tiendalli, Wilfried Bony or Jose Canas? All were brought to the side by Laudrup for a combined 27 or so million pounds.

If that seems like a lot, then here's some context -- Cardiff spent the same on three players (Gary Medel, Steven Caulker, Andreas Cornelius). Tottenham spent more (30 million) on Roberto Soldado alone. And as much again for Erik Lamela.

In his press conferences, Laudrup never puts the blame on his players, and is not afraid to question authority in the face of poor refereeing decisions. On the practice pitch, his players have benefited from one-on-one teaching by one of the game's greats. This is a manager who can personally show his players exactly what he wants them to do with the ball and how to do it. To say before his appointment that signing Laudrup would be a boon for Swansea would have been fair -- to say it now, considering everything he has brought to the side, is nothing short of understatement.

Laudrup's critics will point out Swans underwhelming league position, or Swansea's reliance on other results to progress to the knockout stages of the Europa League. A closer look tells a different story. A diabolical refereeing decision cost Swansea two points against Stoke. Another against Valencia, and late goals conceded against Kuban, saw the Swans drop five points in their Europa League group, when the side might have finished in first place. Laudrup is not responsible for refereeing decisions, and can't force his players to avoid making mistakes.

I might argue with Laudrup's continued use of Michu as as striker, and might prefer de Guzman to be used more sparingly, but Laudrup's tactical approach, squad selection, and substitutions have seldom been the cause for a bad result. When the Swans have looked slow this season, Laudrup himself has suggested he wants them to play faster; Laudrup cannot be culpable if his players sometimes fall short. I honestly don't believe Laudrup will become Tottenham's next boss, but nevertheless, the rumours still act as a reminder that one day he will move on.

Last season's League Cup victory -- the Swans first major trophy -- was a high-water mark for both Laudrup and Swansea. A domestic cup victory represented the highest possible achievement available last season, and Laudrup pulled it off. With Champions League qualification almost as much an impossibility as a Premier League title, the Europa League represents the highest possible achievement available to Laudrup this season, and I believe that as long as his side can avoid relegation, Europe remains the focus.

If Laudrup wins the Europa League -- improbable, but not impossible -- he can stay and defend the title the following season, or leave, and use the new jewel in his crown to leverage a bigger job. If he falls short in Europe this season, then there is less reason for him to stay, unless he specifically likes the South Welsh weather, or feels that developing a small club without needing the keys to the trophy cabinet too often provides enough satisfaction. Laudrup might be under contract, but the main purpose of that document is to provide protection via compensation when the inevitable happens.

If Swans truly are monogamous birds, then Laudrup is rather a different kind of beast. Almost every Swans fan knows that Laudrup will leave sooner or later for greater or different challenges -- my guess is the end of this season -- and with a chequered managerial record to date, proving he can take a decent small club as far as they can go will help convince those responsible that he is ready for a biggest stage, either with club (Barcelona or Madrid), or country. Whatever his future holds, Swansea's own will forever hold a debt to the great Dane.