Limping over the finish line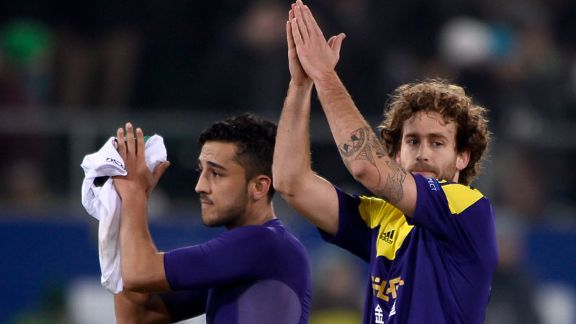 GettyImagesNeil Taylor and Jose Alberto Canas salute the Swansea fans after their loss at St Gallen.
You wouldn't have guessed that Thursday night was an historic moment for Swansea City. Despite suffering a 1-0 defeat to St Gallen, Valencia's 1-1 draw with Kuban Krasnodar meant that Swansea progressed to the knockout stages of the Europa League for the first time in team history, having already reached a new milestone in reaching the group stage last August.

To say Swansea rode their luck would be to put it mildly. Had Kuban found a second goal in their game, then a late extra from St Gallen would have bounced Swansea out of the competition. Given the Swans proven vulnerability to conceding late goals in this competition, I'm not sure anyone on the Swans side could rest easily until news came from the Mestalla that Kuban had only been able to draw.

A draw is actually all it would have taken for Swansea to decide their own fate, and it was disappointing that the side should fall short of such modest expectations. With all due respect to St Gallen, the Swiss side had nothing but pride to play for, the Swans play superior opponents almost every week in the Premier League, and it's not as though Michael Laudrup fielded a weak side.

It is hard to find many positives to speak of on a night when the biggest plus -- Swansea's progression in the competition -- came fortuitously by way of other results. On a night full of eerie winter atmosphere, the only thing apparently lost in the fog was the football, and I'm not talking about the big orange thing.

It was one of those games that defies statistics. On paper, the Swans had 68 percent possession, 85 percent passing accuracy, 12 shots. In reality, it is hard to remember more than one or two Swansea shots, but then only two were on target, so maybe there's a reason for that. The sheer number of passes made by Swansea as a matter of routine, a large proportion of which are safe and short, helps disguise the fact that on the night, this side struggled to string together any meaningful attacking moves, and continually conceded possession, despite being able to win it back as a consequence of St Gallen's more direct style.

The book says that to play for the draw -- the result Swansea needed -- is the right strategy in this situation, but in practice, that doesn't add up. It would have been far more constructive for Swansea to press hard for an early goal, get one, and sit on it for the rest of the game. Instead, Swansea sat on a goose egg, gave up a late goal, and found themselves given ten minutes to get back to where they started. Sure, playing aggressively from the start might have opened up the defence, but wouldn't any side rather give up an early goal, when there's time to find an equaliser, than a late one?

What's more baffling is that Laudrup did not set out his stall defensively. By sitting both Leon Britton and Jose Canas, Laudrup sent out a side with an attacking focus. Perhaps it was simply a case of the final ball not being good enough, and when that's the case, all the build-up play, passing and possession feels like a massive waste of time, which is incidentally what I imagine a large section of the watching fans felt about the game in general.

Negativity aside, the Swans can now enjoy some deserved rest -- at least from Europa League fixtures -- until the new year. The side's involvement in the knockout stages is still a considerable achievement, and who knows, maybe that underwhelming limp over the finish line will give Swansea's next opponent a false sense of security.

A few more positives to end on: Wilfried Bony appears to be fully recovered, and with Michu, Pablo Hernandez and Wayne Routledge also now healthy, the Swans ought to be able to ramp up their performances a gear or two. Also, if the Swans have to play poorly once in a while, at least this time they lost in a game which now no longer matters. The inconsistency continues, but if the pattern of good followed by bad followed by good holds up, Swansea might be due a win at Norwich on Sunday.