Inconsistency hindering Swansea success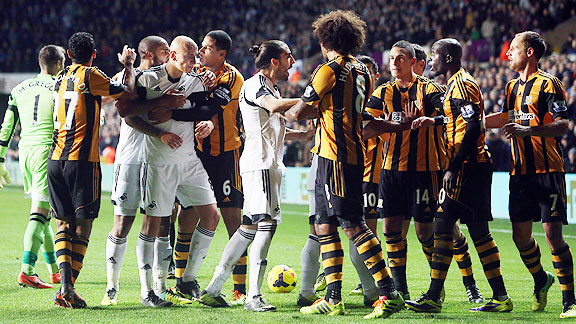 Geoff Caddick/AFP/Getty ImagesSwansea's draw with Hull City on Monday had its share of tense moments.
To re-appropriate Horatio Smith's famous quip, inconsistency is the only thing in which Swansea City have been consistent, at least during this season. The Swans were at it again during Monday night's 1-1 draw with Hull, a game in which apparently three sides took part; bad Swansea, good Swansea, and Hull City.

- Report: Swansea 1-1 Hull City

Perhaps the most telling symptom of inconsistency is that Michael Laudrup is yet to field the same starting XI in back-to-back games this season. The Swans might have expanded their squad over the summer, but that's an impressive feat of rotation for even the deepest roster. If the ever-changing team sheets have escaped notice, then the Swans' performances certainly have not, and it is on the field where Swansea's inconsistency has been most obvious.

After strong showings against Stoke and Fulham, the Swans fell at home to Valencia and gave up against Manchester City, only to then put in an outstanding performance against Newcastle. A disproportionate number of Swansea's goals have come in the second half, suggesting that the inconsistency is endemic even in the context of a single match.

Perhaps on paper, defeats against strong sides and superior performances against weaker sides seems par for the course, but the Swans have only been the better side in a loss once this season -- in the 2-0 defeat to Southampton. That pattern suggests that when this side plays like they want to win, they usually do. I'm not suggesting that Swansea might have beaten Manchester City simply on strength of will alone -- some battles are just too big -- but this is still a side with a surprising amount of control over its own destiny. The biggest teams excluded, there is not a single side in the Premier League that Swansea aren't capable of beating, if not beating well.

What was especially frustrating on Monday was that the FA apparently chose that night to continue its compensation for all those appalling decisions which have gone against the Swans lately. While Swansea were able to take full advantage of what can only be described as generous refereeing against Newcastle, they were not able to capitalise on more of the same against Hull, and I'm not sure how much longer the Swans' complimentary "big six referee package" will last. This might have been it, although it'd be nice to see a penalty against Norwich just to finish things off in style; Swans' spot kicks are about as rare as a John Jensen goal, after all.

Refereeing aside, Monday night's draw was a textbook examination of Swansea's Jekyll and Hyde character this season. A first half full of mis-hit passes and mute communication, the Swan'' movement as slow as frozen toffee, then a second half (or a final 30 minutes in honesty) full of pace, intelligence, desire and spark. A full 90 minutes of the good stuff and the Swans take three points by the interval, with all due respect to Hull.

The quicksand tempo of much of the Swans' play this season has been disconcerting. One of the first elements Laudrup introduced to Swansea when he arrived was pace of play, and although this season's side haven't quite backslid into a Brendan Rodgers' era sleepwalk, it has been hard to discern where the drop-off in vitality has come from. The squad rotation alone undermines the use of the Europa League as a scapegoat.

It was a small relief then when Laudrup himself was critical of his side's lack of urgency in the wake of Monday's draw. If nothing else, that means the lack of pace at least isn't attributable to some horrible new tactical development. His observation that "we did not move the ball fast enough" squarely puts the responsibility onto the players instead.

Clearly, Laudrup still wants his side to play fast, and with good reason. This study, and I'm sure there are others like it, heavily suggests that a team's success is directly related to the number of quality shots it takes, which in turn is directly related to how quickly the side moves the ball into shooting areas in the first place. When the Swans are playing well, they are usually doing so at pace; when they play poorly, they are usually standing still. Perhaps the key to solving the Swans' inconsistency might be as simple as providing a coffee machine in the dressing room?