Good things come in threes in Swans' win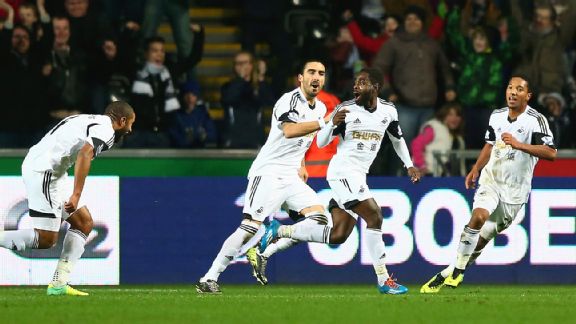 Michael Steele/Getty ImagesNathan Dyer, center, started Swansea's scoring party in their 3-0 win versus Newcastle.
What a difference a day makes -- or three days, anyway. After the disconcerting lack of passion shown in Sunday's defeat, the real Swansea City stepped forward Wednesday night and put three goals past Newcastle. Most remarkable was that the Swans' goal-scoring splurge came in a game played for the most part with no striker.

- Report: Swansea 3-0 Newcastle

With Wilfried Bony following Michu into the treatment room a few games back, the job of starting striker has lately fallen to loanee Alvaro Vasquez. On Wednesday night, Vasquez added his name to the injured list barely half an hour into the match. Alejandro Pozuelo was moved up front, Nathan Dyer replaced Vasquez from the bench, and somehow Swansea scored three goals, with Dyer netting first.

Good (and bad) things seem to come in threes. Three injured strikers, three goals, and three controversial refereeing calls which -- finally -- went Swansea's way. It almost seemed like an act of recompense from the FA's officials after so many result-scuppering decisions against the Swans of late.

Conspiratorial minds might suggest that token 'chief of referees' Howard Webb -- England's finest according to his World Cup credentials -- might have been assigned the Swans' match specifically to make sure the Welsh side got a fairer than usual rub of the green. After all, Webb's the ref the mud's least likely to stick to, and Alan Pardew had plenty to throw by full time.

A nonsense penalty shout involving Ash Williams, a 50-50 shout involving one (or two) potentially handled balls and a debate involving a twitch of Jonjo Shelvey's head will give Newcastle all the mitigation they'll need to cover their loss, but in truth Swansea played a fantastic game for a full 90 minutes, were the better side, and duly reaped three deserved points.

Shelvey was immense, scoring one and finding himself mixed up in the middle of the own goal which produced the Swans' second. There seemed to be two or three tall bald men in white anywhere and everywhere the eye cared to look Wednesday night. Never mind box-to-box; this was byline-to-byline, touchline-to-touchline stuff from the midfielder, who didn't make one single 'trademark' mistake all night. It's an area of his game which continues to improve -- the mistakes are rarer, Shelvey's impact increasingly significant.

It wasn't just Shelvey. At risk of being swallowed up in the shadow of the former Liverpool man's manifest presence was perhaps Jonathan de Guzman's best game of the season. For once, De Guzman broke a sweat defensively as well as offensively, making a crucial block early on and generally being far more effective in his own third than previously witnessed.

De Guzman showed rare discipline in holding a deeper position than suits his inclination, which in turn allowed Shelvey and the Swans' trio of small playmakers to push forward without as much risk of exposure. There's no doubt De Guzman has attacking gifts -- he is by some distance the best crosser of the ball Swansea have -- but until now, his lack of effort and unwillingness to defend have made him a liability and a weak link. On Wednesday, he was the rounder, more balanced player the Swans need in that deep midfield position, with the result that the Swans won, scored a load, and kept a clean sheet. There's another three things for the list.

In the wake of Wednesday night, it will be interesting to watch how Michael Laudrup addresses his sudden shortage of strikers, especially since it's clear that Pozuelo's ball-on-a-string control and penchant for beautiful through balls are wasted if he plays up front. There's a chance Michu might be back for Monday's tilt against Hull, but he'll be lacking match fitness even if he is available.

That leaves youngster Rory Donnelly, who looked a little lost at sea in a Euro qualifier earlier this season, his only start to date. However, the fact that the forward hasn't been loaned out suggests he might be in the reckoning -- kept close for just such a situation as this. Beyond Donnelly, Roland Lamah has the height, desire and pace to do a passable impression of a striker, especially since he's not really an impressive striker of a pass.

Another striker who might have something to prove on Monday is ex-Swan Danny Graham, who could feature for Hull. If Graham scores, it'll be his first goal since leaving Swansea, which would make for some storyline, especially since he's been through two clubs in the meantime. Still, if the Swans can put in another 90 minutes as good as Wednesday night, I'm not sure it would matter even if he did.